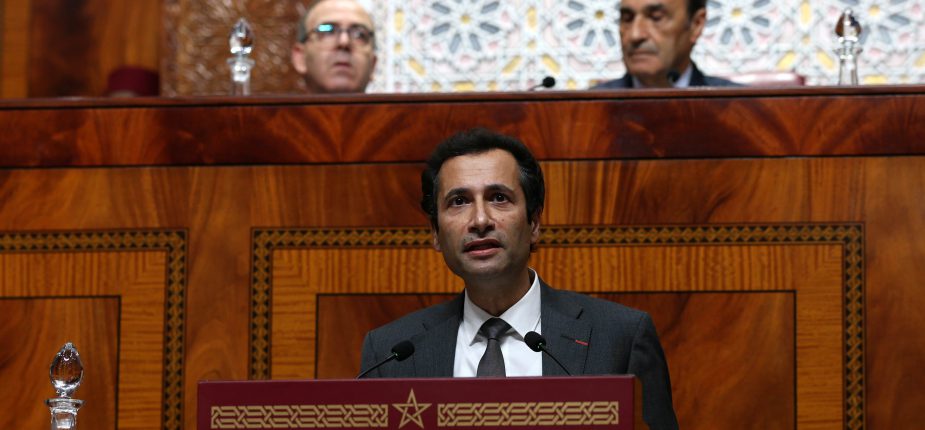 Le ministre de l'Économie et des finances, Mohamed Benchaâboun, présente le projet de loi de finances 2019 devant le Parlement
Économie et Finance
2019 Finance Bill, Mr Benchaaboun opts for an alternative method of government financing
le 29 novembre 2018
After presenting the 2019 Finance Bill to Parliament, the new Master of Coin, Mr Mohamed Benchaaboun, gave a press conference from his departmental offices.
The nation was able to follow it 'live', enabling his presentation of the Finance Bill to reach a much wider audience, proof, if ever needed, of a genuine sense of heightened expectation as a result of King Mohammed VI's new directives, set out in recent weeks in royal addresses.
From the outset, the Minister of the Economy and Finance admitted that the Kingdom's public finances had deteriorated with the budget deficit widening and government debt reaching nearly 70% of GDP.
Confronted with this deteriorating situation, Mr Benchaaboun pledged, by the end of the year, to control spending and reduce the fiscal deficit to less than 3.6% versus an initial target of 3%.
Increases in various expenditure were unavoidable in 2018, suggested Mr Benchaaboun. Examples cited were the price of gas which had risen from USD 441 a tonne to USD 644 and the price of oil, which had increased from USD 52 a barrel to USD 82.3 between 2017 and 2018, resulting in 4.7% growth in spending on subsidies.
The other factor underlying the deterioration in 2018 budget deficit was a revenue shortfall, due to a drop of almost MAD 3 billion in corporate tax.
Then, highly instructive, Mr Benchaaboun detailed the various increases required under the Budget in the first year of the new three-year Organic Law 2019-2021, as well as the external constraints that had to be taken into account. In doing so, the Minister highlighted the Treasury's funding needs and the means of meeting them.
Adopting a logical and rational approach, Mr. Benchaaboun listed the following 2019 budgetary constraints:
– Subsidy expenses of MAD 18 billion, an increase of MAD 5 billion compared to the 2018 Finance Bill;
– Increase in VAT refunds to MAD 9.3 billion dirhams versus MAD 6.3 billion in 2018;
–  Increases in social sector expenditure, including civil servants' pay which will increase by MAD 3.3 billion dirhams to MAD 112.16 billion, public spending on education which will rise by MAD 5.4 billion to MAD 68.28 billion and on health which will grow by MAD 1.5 billion to MAD 16.33 billion;
– An increase of MAD 5 billion in business investment loans;
– Budgetary impact from reforms of MAD 2.7 billion.
As a result of these additional expenditures, the Treasury's funding requirement will increase by MAD 27 billion.
And Mr. Benchaaboun, drawing on his experience as a banker, then set about highlighting the funding resources required to be able to meet these needs. The Minister of Finance outlined to journalists and internet users a variety of practical solutions to financing the government's huge budgetary requirement in 2019 in order to implement the royal recommendations designed to combat precariousness and poverty while reviving the domestic economy.
The proposed additional financing will come from a MAD 1.8 billion increase in domestic consumption tax on tobacco, MAD 5.7 billion in corporate tax, MAD 5 billion in privatisation revenues and MAD 2 billion from improved governance of State-owned enterprises.
Admittedly, these sums add up to only MAD 15 billion out of the MAD 27 required but, this time round, Mr Benchaaboun is innovating by opting for new financing mechanisms.
Indeed, he intends to raise MAD 12 billion of finance by adopting a new approach to financing public spending based on a partnership between the State and institutions. The goal is to have the private sector finance investment projects in social sectors, infrastructure and agriculture.
This effectively amounts to the State raising the funds that it needs from the capital markets, a recipient of domestic savings, without precluding the possibility of signing finance agreements directly with insurance companies, pension funds or investment funds.
Furthermore, the regulatory framework governing real estate collective investment undertakings (OPCI), which provides for a reduction in tax by means of a 50% tax deduction on rental or other income, goes some way to facilitating the new relationship that Mr. Benchaaboun is striving to foster with the private sector.
And, to illustrate this new approach to government financing, the minister gave an example of the private sector financing the construction of schools and then renting them to the local authority, resulting in savings in terms of the investment cost and a reduction in government debt…
Afifa Dassouli
Original article : https://lnt.ma/plf-2019-m-benchaaboun-opte-mode-alternatif-de-financements/