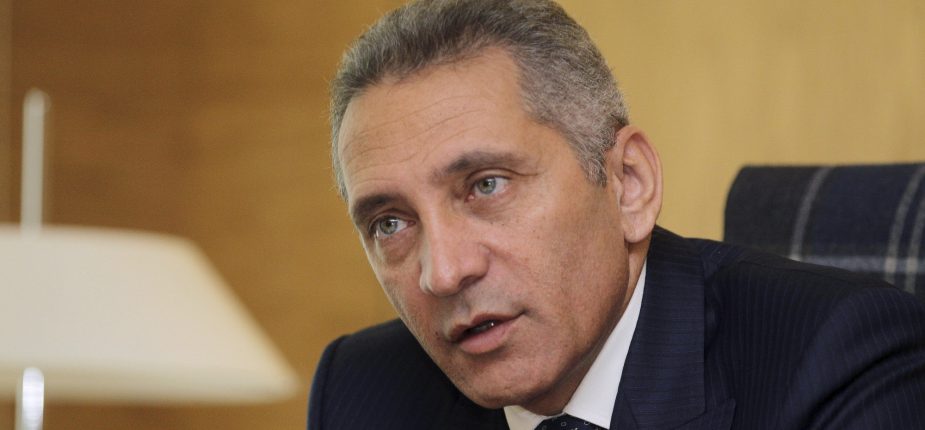 Économie et Finance
Moulay Hafid Elalamy, an African tycoon…
le 23 mars 2018
When discussing Saham Group's strategic transformation following the recent sale of its insurance division, it is worth recalling that this is simply the latest chapter in what has been an unprecedented journey by one of our country's leading financiers and businessmen.
Moulay Hafid Elalamy (MHE), after spending the initial part of his career at ONA Group, first shot to fame when he acquired the Es Saada insurance company, saving the Ouazzani family from bankruptcy in the process, thanks largely to support from the Insurance Support Fund.
A major insurance group is established
This was his first major strategic move because, in bolstering CNIA with the Es Saada network, he managed to turn the former into a fully-fledged insurance company which had been, until then, simply a brokerage network.
Then, soon after, ever the visionary, MHE floated CNIA-Es Saada Assurances in November 2010 through the sale of 15% of its capital or 617,531 shares at a price of 1,044 DH per share.
With the amount raised from this IPO, MAD 644.7 million, he was able to grow this company.
Its name was changed to Saham Assurance, which gave it a more institutional feel and enabled it to join the 'major league'.
Since then, by adopting a very competitive pricing structure, Saham Assurance has continued to gain market share and now enjoys a healthy share of the personal insurance market.
However, Morocco's insurance industry is concentrated in the hands of three large companies backed by three major groups, Wafa Assurance backed by Attijariwafa bank Group, RMA by FinanceCom Group and BMCE Bank Of Africa and Atlanta-Sanad by Holmarcom Group and CDG.
As a result, given that insurance companies' technical results are in the red and that these companies are able to keep their head above water primarily as a result of their financial performance, it would appear that industry growth and penetration have likely peaked as far as the domestic market is concerned.
The African quest
Our insurance companies know this only too well, which explains why they have expanded their footprint in Africa considerably in recent years.
This is also true, of course, for Saham Assurance, or rather, Saham Group's insurance division which, in 2010, adopted a growth strategy for Africa and the Middle East through 65 subsidiaries, including 35 insurance and reinsurance companies on the African continent alone.
It is clear that, based on these results and on his experience, MHE is once again applying an incubator-style strategy. With the business reaching maturity, he has disposed of Saham Assurance and, in doing so, generated a financial windfall of more than MAD 10 billion.
When Saham Assurance went public in late 2010, it was valued at more than MAD 4 billion. Today, with the sale of 53.4% of its capital to the South African Sanlam Group on the basis of 1,450 DH per share, it is overall valued at just under MAD 20 billion.
This literally fabulous deal marks the beginning of a new stage in Saham Group's strategic development. The sale of its insurance division to Sanlam, which was already a major shareholder, has enabled it to exit this business.
From now on, its approach will be to identify new growth niches, internationally and especially in Africa, and to transform Saham Group into a pan-African investment fund with the aim of becoming one of the major strategic players on the African continent.
With a MAD 20 billion war chest and backed by the South African giant Sanlam and undoubtedly other prestigious partners, as is it is accustomed to finding, it intends to make strategic acquisitions, some of which are already underway, as mentioned in the press release by MHE's group.
Furthermore, Mr. Ian Kirk, Sanlam Group's Chief Executive Officer stated: "We are delighted to have increased our exposure to the Kingdom of Morocco, which, as well as being a formidable continental platform at the gates of Europe, enjoys institutional and macroeconomic stability. Our investments alongside Saham Group are a win-win example of inter-African partnership. We hope to work together in the future on other large-scale projects".
Mr. Kirk's remarks therefore underline the fact that Moulay Hafid Elalamy, in addition to being a financial genius, as illustrated by his impeccable timing when it comes to investing and, more importantly, divesting, may now be regarded as a genuine tycoon across the entire African continent!
Afifa Dassouli
Original article : https://lnt.ma/moulay-hafid-elalamy-tycoon-africain/