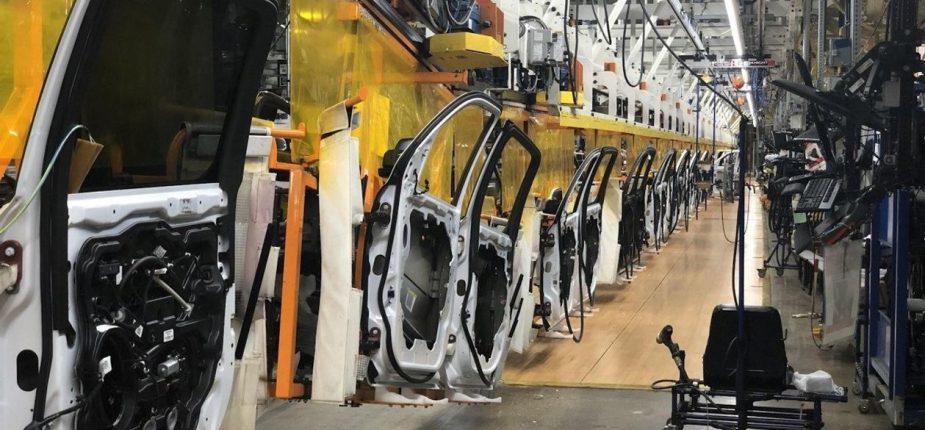 Surveys for the U.S. to be released later Tuesday are expected to point to a return to growth in the manufacturing sector. PHOTO: FCA/REUTERS
Economy
Global Economy Shows Signs of Pulling Out of Its Slump
| le 23 June 2020

Countries that imposed some of the strictest lockdowns are seeing an economic rebound, but path to recovery will likely be long and bumpy
By Paul Hannon – The Wall Street Journal
The global economy is gradually starting to pull out of its stall as lockdowns ease, according to surveys of purchasing managers, with output contracting at a slower pace in much of Europe and Asia this month, and in some instances expanding.
The improvement, albeit tentative, is most visible in countries that issued stringent stay-at-home rules, where economic activity fell sharply in March, April and May.
The lifting of many of those restrictions appears to have led to a stronger rebound in June, with data firm IHS Markit's composite Purchasing Managers Index for France rising to 51.3 in June from 32.1 in May, indicating an expansion in private sector activity for the first time since February. A level below 50.0 points to a decline in activity, while a reading above that mark points to an increase.
Recovery PathJune surveys of purchasing managers pointed to a return to growth in France and Australia, and less severecontractions in Germany and Japan.Purchasing managers composite output indexes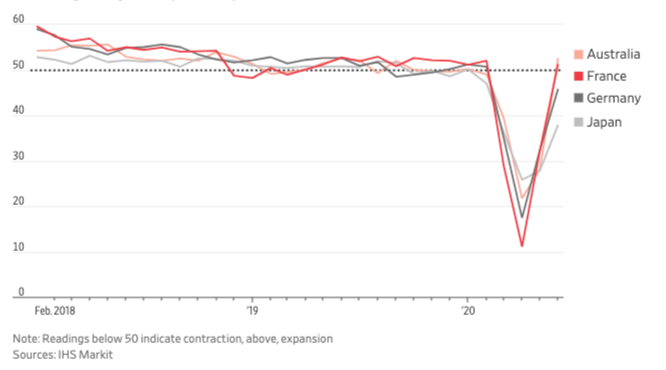 But the surveys also recorded continued declines in activity in countries that imposed softer lockdowns, including Germany and Japan. The latter recorded a sharper drop in manufacturing activity than in May, suggesting the path back to where the economy was before the pandemic will likely be long and bumpy.
In Europe, the PMI for the eurozone—a measure of activity in the manufacturing and services sectors—rose to 47.5 in June from 31.9 in May to reach its highest level since February, the month before lockdowns began in most of the continent.
"With the timing of a return to normal still something that can only be speculated upon, and virus-related restrictions likely to continue to hit many businesses for the rest of the year, we remain very cautious of the strength and sustainability of any economic rebound," said Chris Williamson, IHS Markit's chief business economist.
Besides an improved PMI, France saw other signs of stabilization. New orders fell only slightly, and the drop in payrolls also eased. Australia also experienced a return to growth, with its composite PMI jumping to 52.6 from 28.1. But while activity in the services sector grew again after five months of declines, manufacturing production recorded a slight drop and businesses said they cut employment.
"We are now past the low point in economic activity," said Gareth Aird, an economist at the Commonwealth Bank of Australia. "The further decline in employment was disappointing. We should see head count lift from here."
In the U.K., the world's sixth largest economy, the manufacturing sector returned to growth, while the contraction in the services sector eased.
By contrast, Germany and Japan continued to see declines in activity, and in the latter the drop in manufacturing activity was sharper than in May. That continued weakness in the world's third and fourth largest economies suggests the path back to the levels of output that were recorded before the pandemic will likely be long and bumpy.
Similar surveys for the U.S. to be released later Tuesday are expected to point to a return to growth in the manufacturing sector, and a smaller decline in services activity.
Signs of a return to growth in France and Australia, combined with indications of stabilization elsewhere, come as economists are reassessing their most pessimistic projections for the global economy during the three months through June.
They still expect to see the sharpest contraction on record for many parts of the global economy in the second quarter, but are moderating their estimates of the size of that decline in output amid signs that consumer spending has picked up in recent weeks and job losses are smaller than feared.
German bank Berenberg last week said it now expects the U.S. economy to contract by 4.1% this year, having previously expected to see a 6.1% drop in output. For the eurozone, the bank's economists now forecast a contraction of 9%, rather than the 9.6% previously forecast.
One consequence of the lockdowns that spread around the world has been a collapse in exports and imports. But the World Trade Organization Monday said it is now unlikely that trade flows will fall by a third this year, an unprecedented drop it said was possible in April.
"The fall in trade we are now seeing is historically large—in fact, it would be the steepest on record," said Roberto Azevêdo, the WTO's director-general. "But there is an important silver lining here: it could have been much worse."