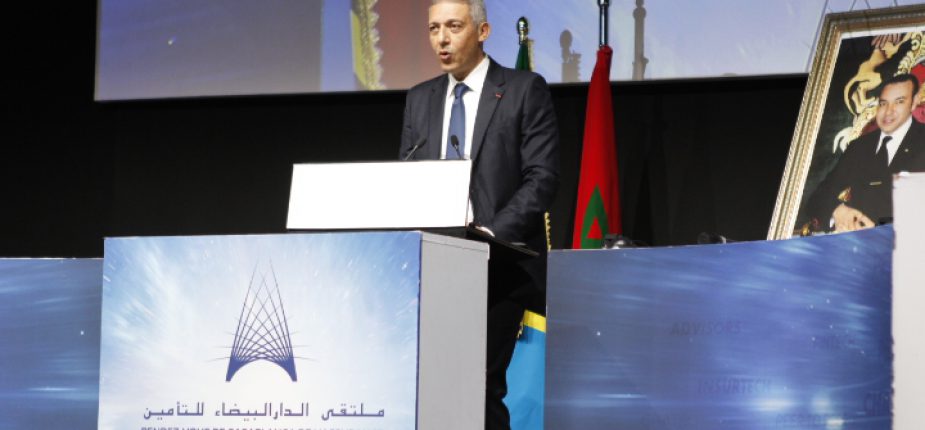 Économie et Finance
The 5th Insurance Convention: disruption and development at home and in Africa
le 30 avril 2018
The 5th Insurance Convention, on the theme of theme of disruption in the insurance industry, got underway Wednesday morning in Casablanca.
The Convention, which is now a major national, regional and international event, has this year attracted more than a thousand participants from 36 countries, including 25 African countries.
Tanzania is the African 'Guest of Honour' country.
In the wake of His Majesty's visit to Tanzania in October 2016, a number of partnership agreements were reached with this country, including one between the Moroccan and Tanzanian insurance federations.
It seems that the conference gets more innovative year by year. The main theme last year was the challenges posed by digital technology. This year, the main theme of topical interest to Moroccan insurers and their guests is disruption.
The era of 'connected people'
If proof were ever needed, on show at the conference was a robot, 'Beauty Face', an unambiguous symbol of the technological revolution and the way in which artificial intelligence has taken our daily lives by storm, technology and AI being the main causes of what has become a major trend.
And, if the audience needed convincing or impressing of that, during the opening session, Beauty Face answered 'live' questions from Messrs. Mohamed Bensalah and Bachir Baddou, FMSAR's President and Director General respectively.
Of topical interest, then, the concept of disruption was broadly defined by a variety of speakers during this inaugural session.
First and foremost, the global insurance industry is facing change and upheaval and undergoing pressures and profound changes that Mr. Baddou compared in his presentation to the way in which Uber has stormed the passenger transport sector (taxis, etc.).
As a result of the innovations, these so-called breakthroughs, the very concept of insurance is changing.
And customers are becoming increasingly demanding, requesting services and features that provide additional benefits and at a lower cost.
It is patently clear that the relationship between insurers and policyholders is changing. Indeed, relations are and will continue to be driven by a multichannel approach, using artificial intelligence in all its facets.
This explains why APEBI is one of the conference partners. The insurance industry, to be able to adapt, requires the expertise of companies specialising in new technologies.
In his welcome address, the FMSAR's President, Mr. Mohamed Bensalah took the opportunity of mentioning those international partners which are sponsoring this 5th Insurance Convention and which, unquestionably, are supporting the Kingdom's insurers with this transformation process. These include the President of the French Insurance Association, Mr. Bernard Spitz, the President of the American Insurers Association, the Vice-President of the Japan Insurers Federation, as well as representatives of insurance markets in Africa.
In Mr. Bensalah's opinion, the very future of the insurance industry will be determined by disruption. Insurers will need to explore, innovate and reinvent themselves to be able to deal with and integrate technology that has become ubiquitous in our daily lives.
According to President Bensalah, as a result of disruption, the industry will need to raise its game to come to terms with new technologies that are fast transforming the insurance industry, as evidenced by the growing number of people who use them, if not on a standalone basis, then at least alongside traditional insurance products.
The question posed at this conference is how will the insurance industry adapt to the requirements of these new connected populations and new technologies.
And one of the answers is that the profession must undergo a wholesale transformation as it will have to deal with new risks such as natural disasters, cyber risks, etc.
Disruption, a major revolution for humanity
In his address, the President of ACAPS, Mr. Hassan Boubrik defined disruption as "a word which comes from Latin, whose meaning refers simply to a rupture or break which upsets the nature of products and consumer behaviour. Disruptive change contrasts with incremental change, which brings gradual improvement to different sectors".
"This revolution can be compared to the two most important disruptive revolutions experienced by humanity, the invention of writing and that of printing. It has something in common with these two revolutions, in that they all relate to information, how to convey it, store it and use it."
Insurance is one of the industries in which disruption is likely to be felt most keenly.
The insurance industry's very business model is being impacted.
In Mr. Boubrik's opinion, as far as the development of the driverless car is concerned, the driver's civil liability which will be insured but the manufacturer's or software publisher's.
Health insurance, on the other hand, is moving towards a system of individualised pricing, thereby undermining the sacrosanct principle of pooling insurance risk, as is the case with automobile insurance.
Insurers are fully aware of the challenges brought about by these changes and are therefore making digital acceleration one of their strategic priorities.
They are investing heavily in digital technology, buying into or tying up partnerships with 'Insurtechs' as well as establishing their own accelerators or incubators.
Insurtechs can be found along the entire insurance value chain as providers of technical services, brokers and, in some cases, insurers even.
In France, Alan, a new digitised end-to-end health insurer is the first independent insurer to have been granted an insurance licence in that country. This is proof indeed that digital systems are capable of breaking down barriers to entry in the most regulated of industries.
Mr. Boubrik suggested that it was important to retain a sense of perspective. While more mature insurance markets were already seeing disruption, new technological innovations were also responsible for disruption in Africa's insurance markets. But as far as the latter was concerned, the issues at play and the manner of breaking with the past were not exactly the same as in developed countries and markets.
The domestic and African contexts
Driverless cars are not going to happen in the immediate future on our continent. Investment in Insurtech, of sufficient size at least, requires ecosystems and a certain level of funding that most African countries cannot afford.
Over the coming years, the major issue in Africa is going to be the increase in the penetration rate of insurance products.
The African market accounts for just 1.6% of the global market while GDP is nearly double that percentage. And, the simple fact of the matter is that Africa is largely under-equipped when it comes to insurance.
How can financial services, particularly insurance, be made available to a very large number of people who are currently deprived of them? How can reasonable products be provided that meet their needs and provide cover for their all-too-apparent risks?
The use of new technologies can significantly help us to achieve these goals.
And so, the kind of disruption that we will see in Africa is more likely to relate to the distribution and use of digital platforms and low-cost technologies so as to facilitate access to products.
New technologies are also likely to focus more on claims management and customer relations in general.
And that would already be a decent start because, as well as expanding access to insurance, it would also improve services to policyholders and restore consumer confidence in an industry which has a relatively poor image and in which there is a general lack of trust.
Lastly, we sense, at the end of this opening session of the 5th Insurance Convention, that Morocco has become a platform for hosting high-level regional and international events.
The chosen themes for discussion relate to issues that are relevant to all countries. Disruption is clearly an important issue for the insurance industry.
But we cannot escape the fact that that there will be a cost to all this change, it will take time and the regulatory and supervisory framework will need to be bolstered.
Afifa Dassouli
Original article : https://lnt.ma/5e-rv-de-lassurance-de-disruption-de-concretisation-locale-africaine/