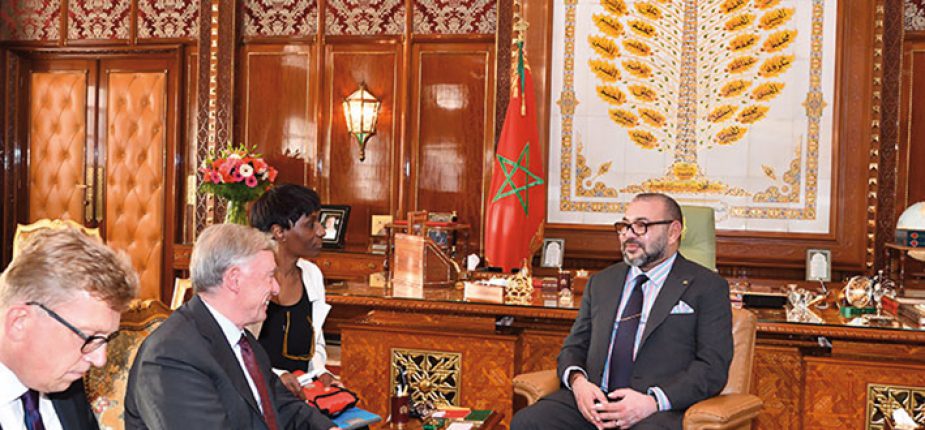 Politique
Moroccan Sahara-UNO – the new paradigm
le 25 octobre 2017
Mr Horst Köhler, Personal Envoy of the Secretary-General for Western Sahara, Mr Antonio Guterres, has been making his first ex-officio tour of the North African region since 15th October.
And as nothing is ever incidental, fortuitous or gratuitous when it comes to international relations and UN mandates, this visit by the 'new man', responsible since 8th September for the highly sensitive Moroccan Sahara issue, is highly important, since it precedes the presentation of the progress report to the Security Council at the end of October.
In fact, what is immediately discernible is that there are clear signs of a fresh approach, markedly different from previous ones. This would seem to suggest that, going forward, the issue of the Moroccan Western Sahara will be analysed and resolved in a way which is no longer determined by a prejudicial and mechanical thought process, which has until now resulted in nothing other than stalemate and a denial of the legitimate rights of Morocco and its people for more than forty years.
Marhaba Mr. Köhler
First, it is worth noting that Mr Guterres' Personal Envoy began his tour by a visit to the Kingdom's capital. It could be argued that this was a first positive signal, not because Rabat was the first stop on Mr Köhler's visit but because he was granted a royal audience, a token of esteem that had been withheld from Mr Christopher Ross from 2013 until the end of his period of office in the spring of 2017.
The fact that King Mohammed VI granted an audience to Mr Guterres' Personal Envoy would above all suggest that Mr Köhler is regarded as persona grata among the highest echelons of the Moroccan state.
Furthermore, Mr Kohler also had the opportunity of meeting the Head of the Government in addition to holding several meetings with his 'institutional' counterpart, Mr Nacer Bourita, Minister of Foreign Affairs.
The initial contact between Mr Köhler and the Moroccan authorities has got off to a very good start indeed.
The second point which must be underlined, as it expresses a very different viewpoint to Mr Ross', is that the current missus dominicus did not think it necessary to submit a request to visit Laâyoune, a destination for which the former American ambassador to Algiers showed a particular fondness, with the intention of legitimising in situ the fringes of a population with separatist leanings.
But, over and above these initial observations which tear to shreds the spurious articles that have appeared in the Algerian press announcing that Mr Guterres' envoy would not be received by the Moroccan Sovereign, a new dynamic has clearly emerged since the new UN General Secretary and his personal envoy have assumed responsibility for the Moroccan Sahara issue.
There will be no going back on the terms of the report that Mr Guterres presented to the Security Council in April, wherein he urged Algeria to work seriously towards a lasting solution to the issue, that that State should finally authorise a census of those persons who had been incarcerated in the Tindouf camps and that the sole UN resolutions worthy of consideration were those that endeavoured to find a political, peaceful and negotiated settlement. And of course, this was met with deeply felt annoyance by our 'Brothers in the East'!
In fact, whether it pleases Algiers and its mercenary separatists or not, there has clearly been a genuine paradigm shift driven by the impressive high-ranking UN officials who are now responsible for this issue.
Lessons from history
Mr Guterres, who is Portuguese, was previously his country's Prime Minister and is a former UN High Commissioner for refugees.  Therefore, he perfectly understands the issue surrounding the Saharan peoples who have been held hostage for the last forty years. Any spurious propaganda from Tindouf mercenaries will be like water off a duck's back. This was clearly not the case with his South Korean predecessor, who was poorly informed about the various issues that have dominated Southern Europe and the Mediterranean basin for decades.
In addition, the new chief of the New York-based 'thingamajig' is certainly far less beholden to Washington than was Mr Ban Ki-moon, given that the current occupant of the White House is someone who, if not entirely isolationist, is at the very least poorly versed in international affairs and whose preoccupations lie in North Korea, Iran, China and Russia!
He is aided by another European of no mean stature, Mr Horst Köhler, who was formerly Germany's President and Managing Director of the IMF.
The Personal Envoy is knowledgeable about the regional context, the issues that rankle and those that divide and he is able to draw from Franco-German history to understand the essence of the disagreement between Algerians and Moroccans, while our Eastern neighbours have often been perceived as the Prussians of North Africa but without the military and political genius of a Bismarck!
Mr Guterres and Mr Köhler will not allow themselves to be taken in by issues of separatism, balkanisation and the creation of non-viable micro-states which pose a genuine threat to regional and international security.
Before such truths can even be applied to the Moroccan Sahara, the example of Catalonia, which poses a very serious threat to the stability of the European Union itself, is now sufficiently at the forefront of everyone's minds so as to act as a foil to separatist claims, regardless of where they come from.
This is undoubtedly one of the reasons for the paradigm shift referred to above.
Morocco and its ruling class are fully aware of this. They have repeated over and over again, officially and steadfastly, that the Kingdom would never accept anything other than Moroccan sovereignty over our Saharan provinces.
This resolute stand has now been understood by those persons in the UN responsible for this issue. If Mr Köhler's brief is to endeavour to restart negotiations between the parties in question and, with the full involvement of the interested parties (Algeria) along the lines of the Manhasset negotiations, one is firmly led to believe that there will be a single option on the table, which is the one proposed by Morocco in 2007, that of substantial autonomy.
Whether they like it or not…
Fahd YATA
Original article : https://lnt.ma/sahara-marocain-onu-nouveau-paradigme/