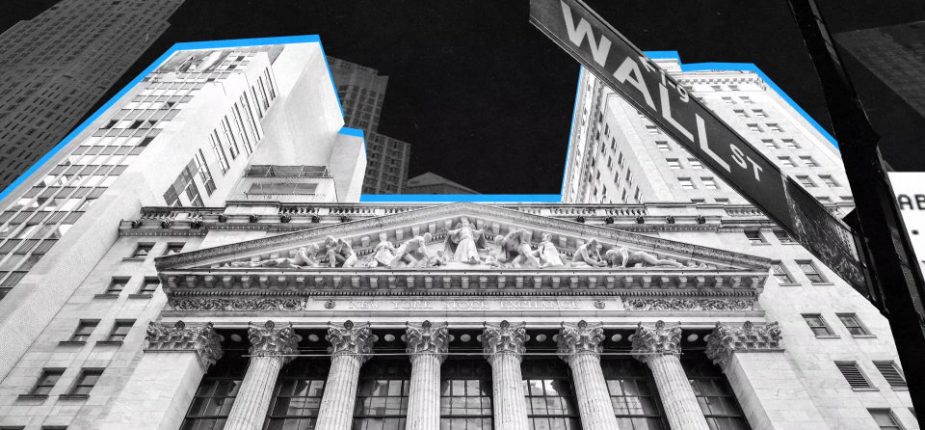 Economy
U.S. Stock Futures Falter Despite Central Banks' Action
| le 19 March 2020

Southern European countries see recovery in government debt after the ECB unveils a new bond-buying program
By Caitlin Ostroff and
Xie Yu – The Wall Street Journal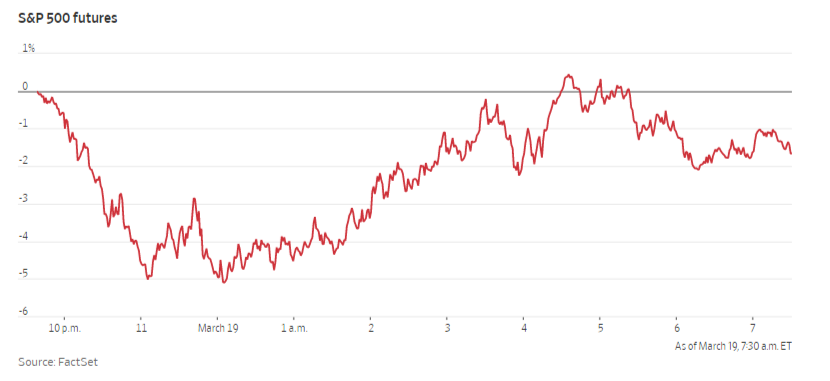 U.S. stock futures declined on Thursday even as the Federal Reserve and European Central Bank introduced fresh measures to protect the global economy from the impact of the coronavirus pandemic.
Futures tied to the S&P 500 index wavered between gains and losses before edging down almost 2%. A day earlier, markets were roiled by a synchronized selloff in stocks, bonds and commodities as investors scrambled to raise cash to buffet themselves against the widening economic damage caused by the virus.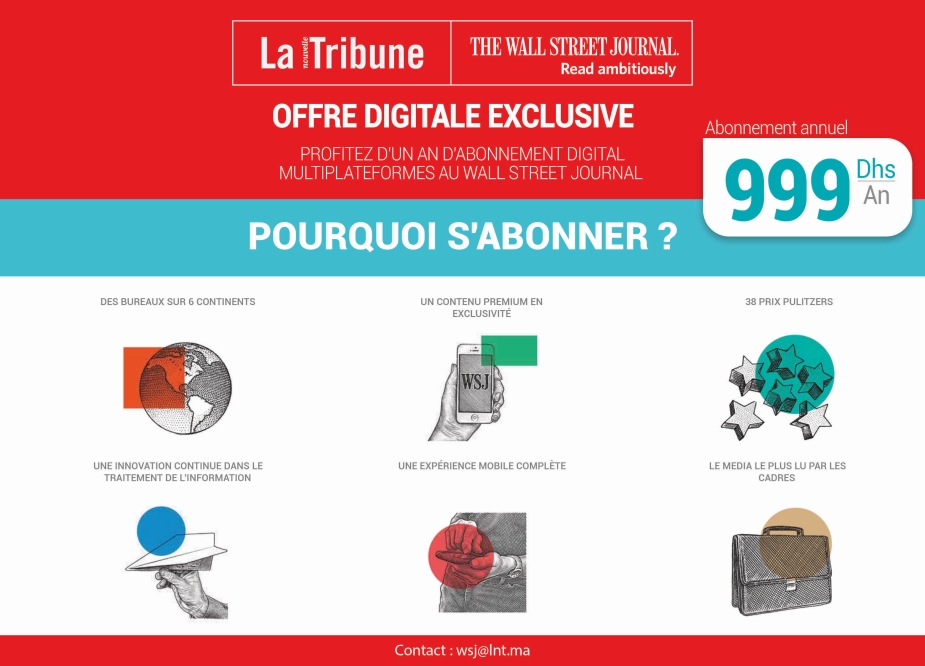 The Fed, which has moved aggressively this week to protect strains in funding markets from aggravating what is already likely to be a severe halt to economic growth, said late Wednesday it would launch a new lending facility to backstop U.S. money-market mutual funds. U.S. lawmakers are also debating a Trump administration proposal for $1 trillion in spending, including aid for airlines and direct payments to American households.
"The financial system is just showing so many points of stress that it's hard for any single measure to restore investor confidence," said Altaf Kassam, head of investment strategy for State Street Global Advisors in Europe, the Middle East and Africa. "When you have whole economies or whole populations shut down, it is going to have a massive economic effect and no one knows how long that will go on for."
The yield on 10-year U.S. Treasurys slid to 1.191%, from 1.259% Wednesday.
The ECB meanwhile unveiled a new €750 billion ($818.7 billion) bond-buying program aimed at shielding the region's economy. The move was aimed in part at addressing worries about the most debt-laden nations in the eurozone and their ability to meet their obligations as spending demands increase.
That move helped alleviate some of the concerns tied to Southern European countries, and prompted investors to move funds back into sovereign debt from those governments. Greek debt saw some of the sharpest recovery, with the yields on 10-year bonds dropping to 2.056%, from 3.885% on Wednesday. The yield on Italy's 10-year bonds fell to 1.441%, from 2.294%, while Spain's debt saw yields drop below 1%.
"Confidence in bond markets is crucial because of the fiscal expansion we're likely to see broadly as a result of coronavirus," said Paul Markham, global equity portfolio manager at Newton Investment Management.
The pan-continental Stoxx Europe 600 edged 0.4% lower, erasing gains made earlier in the day.
U.S. crude futures soared over 12% a day after plunging to their lowest levels in 18 years. Brent crude, the global gauge for oil prices, rose 6%.
In Asia, stocks and many currencies continued to drop Thursday. Equity benchmarks in Hong Kong, Australia and Taiwan slid to their lowest levels in years, while a strengthening U.S. dollar pushed some regional currencies to depths not seen in more than a decade.
South Korea faced the biggest rout, with the Kospi benchmark index dropping 8.4% as its currency, the won, tumbled to a new decade low.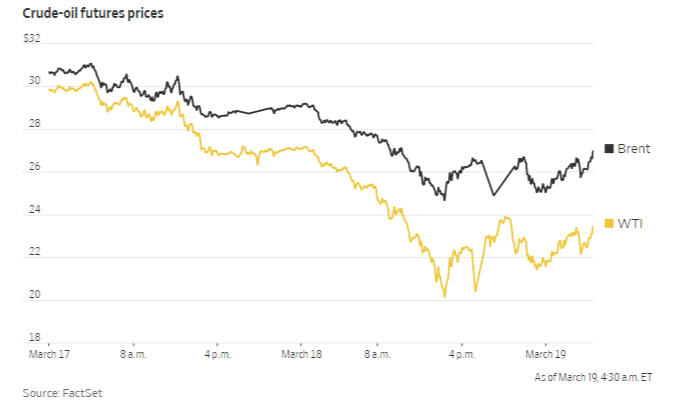 In the Philippines, Indonesia and South Korea, exchanges halted trading temporarily after stocks fell steeply and tripped circuit breakers. Indonesia's central bank also cut its benchmark rate.
Money managers said a global scramble for cash and U.S. dollars is causing disruptions in many markets, leading investors and institutions to shed stocks and other easy-to-sell assets as they prepare for more turbulence.
The shortage of dollars "is the biggest fire for now," said Govinda Finn, an economist at Aberdeen Standard Investments.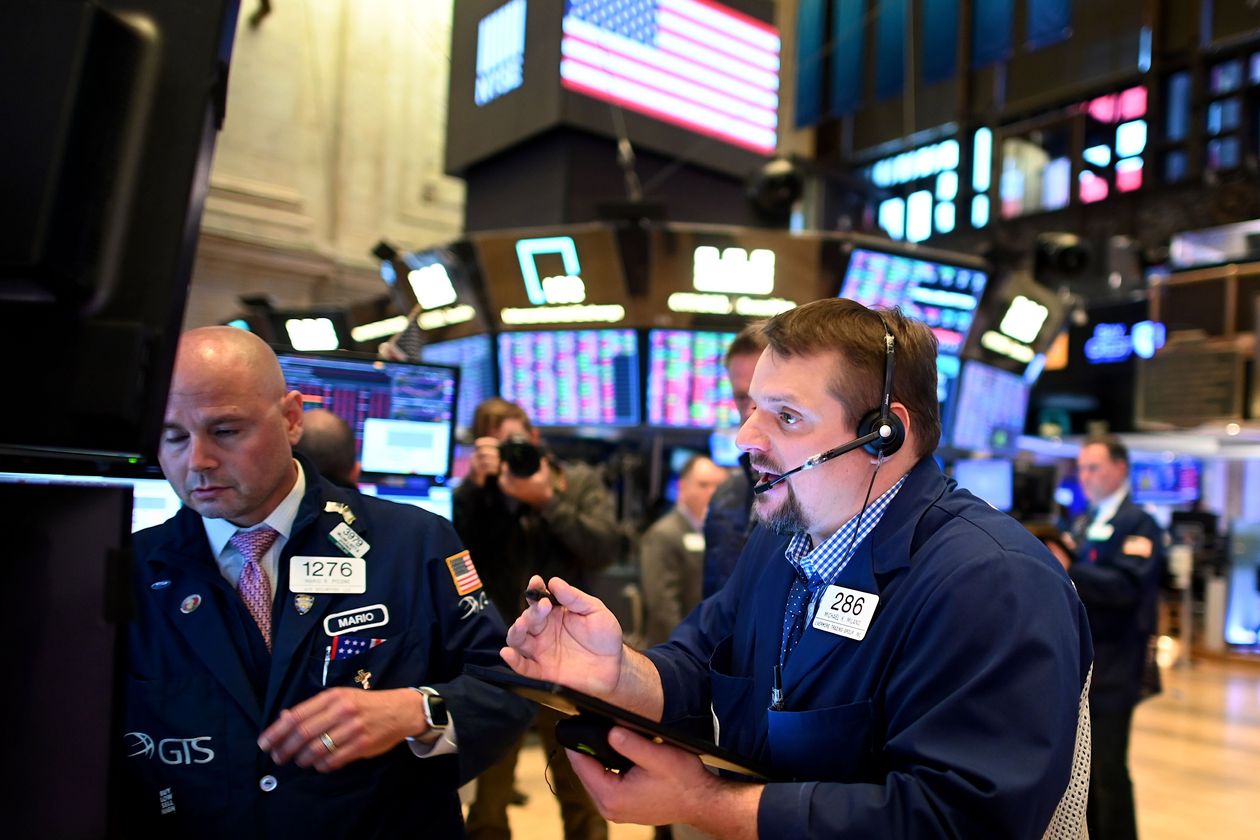 A sudden slowdown in economic activity has increased the need for short-term funds among banks and companies that need to cover operating costs and repay debt while their revenues have taken a hit. In Asia, where dollar debt issuance has swelled in recent years, the problem has been exacerbated by reduced access to dollars given the cash hoarding in other markets, he said.
"In the past it was relatively easy to buy dollars outside the U.S., but the cost is getting higher," Mr. Finn added.