"It's overwhelming. It's exhausting. It's demoralizing," said Susan White Morrissey, founder of White + Warren, a cashmere brand in New York. "My employees just want to know what to do. This is probably the first time in my career that I can't give them the answers."
White + Warren this year added five employees and boosted inventory to increase e-commerce sales, but the 30-person company is struggling to plan as the trade dispute heats up. Tariffs imposed this summer slashed profit on its ribbed cashmere hats made in China by 50%.
"It's hard enough to adjust to price increases, but it's just more difficult when you are uncertain how policy will unfold in the future," said Richard Curtin, a University of Michigan economist who analyzed the Vistage data. "For small firms that means being more cautious in your investment and hiring plans."
Wiscon Products Inc., a precision machine shop in Racine, Wis., normally orders raw materials six months in advance, but these days it is having trouble getting customers to decide what they need in three weeks. One auto maker canceled a $2 million parts order destined for China because of escalating trade tensions.
The 75-year-old company has replaced about 40% of lost revenue through aggressive marketing and expects to end up stronger, with a more diversified customer base. Yet, it has put off plans to buy new machines.
"This is the strangest I've ever seen it," said Wiscon President Torben Christensen, who has run the company for the past decade. "It's busy. The economy is booming, but there is great uncertainty. A lot of it has to do with trade policy."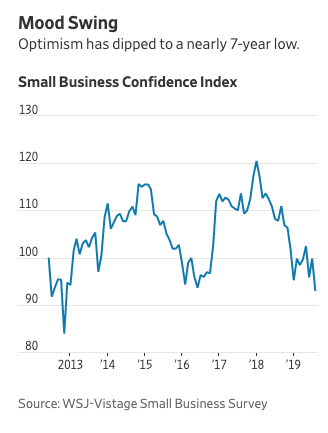 Trade talks have mostly stalled since late May, when negotiators were believed to be close to a deal. Since then negotiators have sought, so far without success, to reach a limited preliminary arrangement that would have China committing to buying more U.S. farm products and the U.S. agreeing to ease off restrictions on China's Huawei Technologies Co.
Additional U.S. tariffs of 15% on $156 billion of Chinese-made smartphones, laptops, toys, videogames and other products have been set for Dec. 15.
On Friday, Mr. Trump rejected the notion that his trade policies were hurting the U.S. economy. He blamed "badly run and weak companies" for any business setbacks and urged the Federal Reserve to cut interest rates to support the economy.