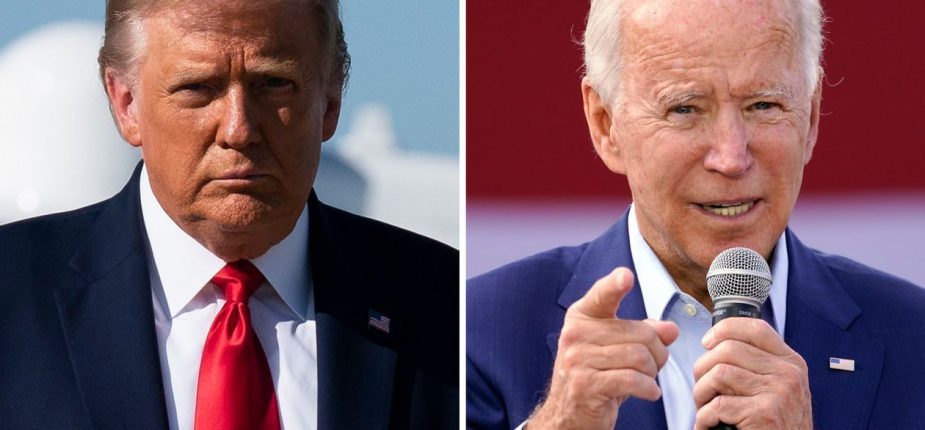 Politics
Trump and Biden Trade Barbs on Social Security but Avoid Substance
| le 25 September 2020

Campaign ads overshadow pandemic's toll on program's shaky long-term finances
By Kate Davidson and
Richard Rubin – The Wall Street Journal
Social Security has become a flashpoint in the presidential campaign in recent weeks, with both candidates accusing the other of undermining the program, and each insisting he won't cut benefits.
Democratic presidential nominee Joe Biden and President Trump have launched a series of ads in key swing states targeting older voters. So far, however, the debate has overshadowed the substantive issues the winner will likely need to confront, including the toll the coronavirus pandemic has taken on Social Security's shaky long-term finances.
"Social Security is the third rail of politics," said Shai Akabas, economic policy director at the Bipartisan Policy Center, a Washington think tank. "If you can stick the other candidate's hand on that third rail, then you're potentially going to electrocute them. I think that's what both parties are effectively trying to do, without really talking about the crux of the issue."
Policy makers have known for years that one day, benefits paid to millions of older and disabled Americans will have to be cut unless Congress acts to shore up the program. That prospect has seemed distant enough not to require immediate action.
The recession has accelerated the day of reckoning.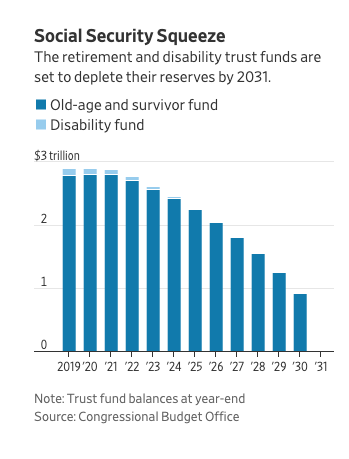 The Congressional Budget Office this month said reserves from the old-age and survivors insurance trust fund, which finances the program, will now be exhausted in 2031, one year earlier than previously predicted. And reserves for disability benefits will likely run out in 2026 rather than lasting through the decade, the CBO said, potentially leading to an immediate benefit cut absent congressional action.
Even that timetable may be too optimistic, Mr. Akabas said, based on a report the Bipartisan Policy Center is preparing. A prolonged, lackluster economic recovery could mean the old-age trust fund reserves run dry in 2030 and disability reserves peter out by 2024.
Projections are uncertain and depend on a host of unknowns. Those would include how quickly workers return to their jobs, how many older Americans decide to leave the workforce for good or apply for disability benefits, and how many people die from the virus. Last year, 54.1 million people received retirement and survivor benefits, and 9.1 million received disability benefits.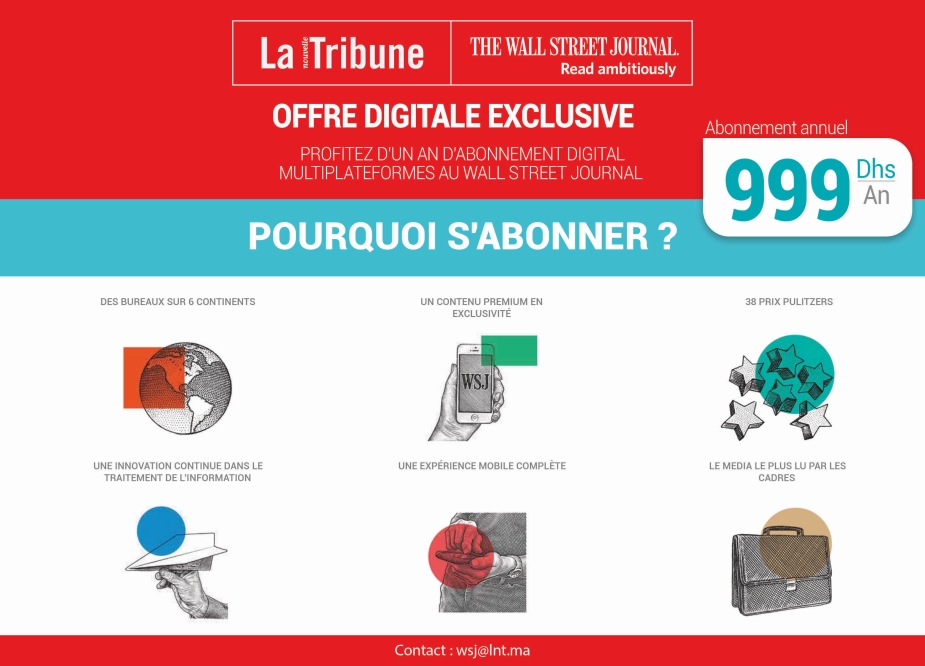 "Given the economy remains weak and could grow weaker depending on the path of the virus, these numbers are likely to get worse," said Maya MacGuineas, president of the Committee for a Responsible Federal Budget, a Washington think tank.
Even before the pandemic, officials estimated Social Security would need to begin drawing down the reserves in its trust funds starting next year, when the benefits paid out by the funds will exceed the payroll taxes they take in. The subsequent funding shortfall is largely because of demographics, as the baby-boom generation continues to retire, people are living and collecting benefits longer, and the share of working-age Americans paying payroll taxes shrinks.
Mass layoffs this spring have reduced the number of working Americans, putting further pressure on the program's finances. While the unemployment rate decreased to 8.4% in August from 14.7% in April, 11 million people remain jobless—diminishing revenue from the 12.4% payroll tax, split between employees and employers, funding the program.
If the trust fund reserves run dry, Congress would have to come up with a new funding source to avoid cutting benefits, either by raising payroll taxes or tapping the government's general fund.
"People have realized that the conversation is going to need to happen," Mr. Akabas said. "I think the coronavirus has both accelerated the need for that but also put it on pause," he said, pointing also to the election.
Social Security got little attention on the campaign trail until last month, when Mr. Trump ordered the Treasury Department to postpone payroll-tax deadlines for the final four months of 2020. He said the move, which lets employers choose whether to defer the employee share of Social Security contributions for most workers, was intended to stimulate the economy.
Mr. Trump repeatedly said he wanted to eliminate the payroll tax after the election. White House aides, however, have clarified that he meant he wanted to forgive the deferred tax liability rather than make workers pay it back in 2021.
Democrats seized on Mr. Trump's words and obtained a report from the Social Security Administration showing that the trust funds would run out of money in 2023 if the payroll tax were eliminated.
"If Trump gets his way, Social Security benefits will run out in just three years," says a Biden campaign ad, part of a series targeting older voters in swing states, including Florida and Arizona.
The Trump campaign countered with ads charging that Mr. Biden tried for years as a senator to cut Social Security. "Now Biden's promising your benefits to illegal immigrants," a narrator says.
Mr. Biden has proposed imposing the payroll tax on wages over $400,000, in part to help bolster Social Security, among other priorities, and increase some of the program's minimum benefits. That proposal is in line with others from Democrats in recent years.
"Vice President Biden knows how important Social Security is to the middle- class Americans who have spent their whole lives working toward a dignified retirement—that's why he's put forward a comprehensive plan to increase benefits to those who need it the most while putting Social Security on a path to long-term solvency," campaign spokesman Michael Gwin said.
Tim Murtaugh, a spokesman for the Trump campaign, said the president "has repeatedly made clear that he will absolutely protect Social Security. Asked if the campaign had a plan to address the program's solvency, he referred questions to the White House. The White House didn't respond to a request for comment.
"Demagoguing Social Security works politically," Ms. MacGuineas said. "Just making an accusation about either candidate and their position on Social Security can scare seniors and inspire them to vote out of fear, despite the backwardness of denying that reforms need to be made when they so clearly do."