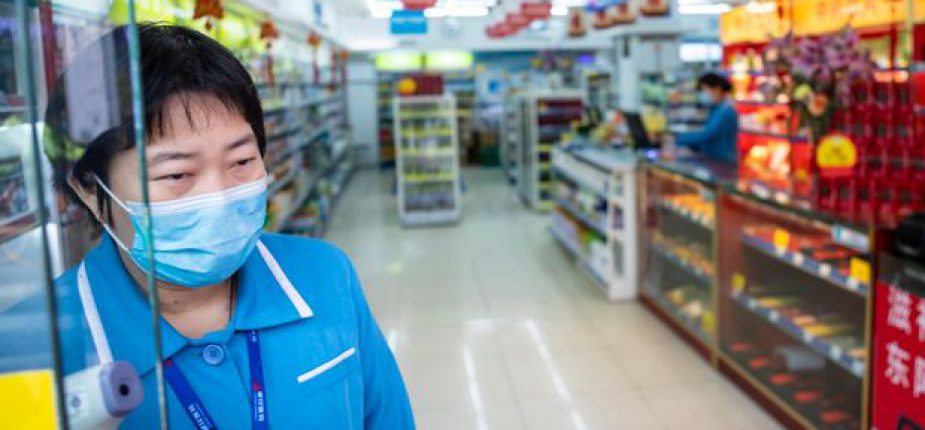 Society
Sharp Rise in Coronavirus Cases Raises Questions About Outbreak's Peak
| le 14 February 2020

Epidemiologists, officials and investors may need to recalibrate projections for the trajectory of a pathogen that remains little understood
By
New cases of the coronavirus rose sharply after Chinese authorities changed the criteria for diagnosing the illness, raising questions about how soon the outbreak will peak.
On Thursday, health officials in Hubei province, the epicenter of the infections, announced the largest one-day jump in cases—14,840 on Wednesday, about nine times the number of new cases a day earlier. Epidemiologists, government officials and investors might now need to recalibrate their projections for the trajectory of a virus that remains little understood.
In recent days, investors had pushed U.S. stocks to records as Chinese officials touted gains in the fight against the fast-spreading illness that has gripped central China for the past month, fixing their attention on one number—a drop in the growth rate of new infections—that suggested the virus was running out of steam.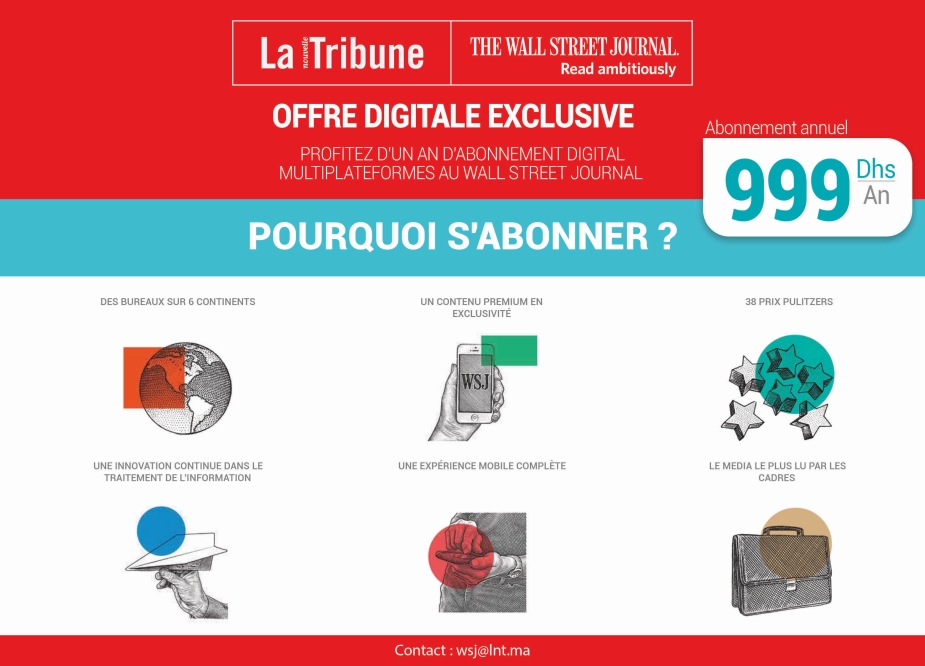 Such a dramatic surge in cases as announced Thursday is likely a one-off. It reflects the shift in how Hubei province authorities are classifying patients as having clinically confirmed infections after they are diagnosed by a doctor, such as through an X-ray, rather than just counting those patients who have positive laboratory identification of the virus.
The new practice isn't a standard way to diagnose the presence of a specific virus.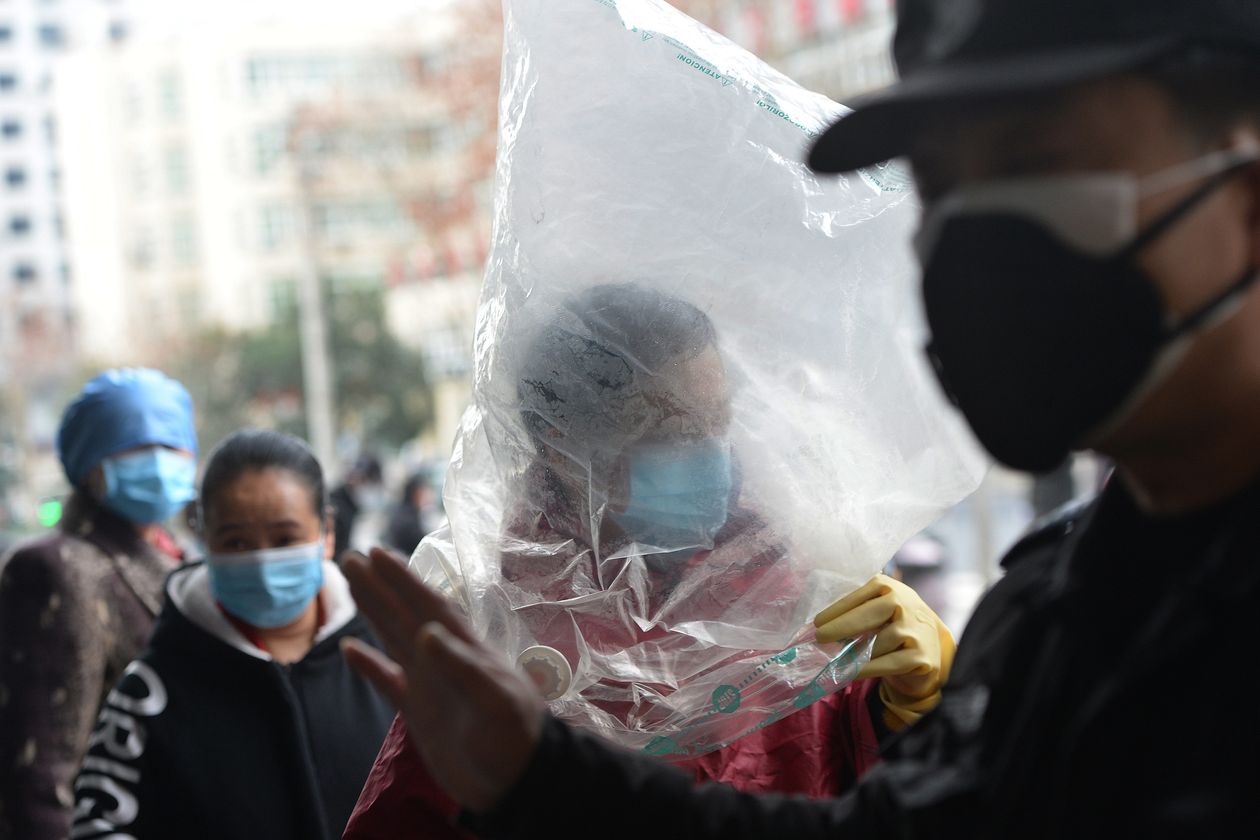 "This does not represent a significant change in trajectory of the outbreak," said Michael Ryan, executive director of the World Health Organization's Health Emergencies Program. He called the jump in cases "an after-fact of reporting."
Dr. Ryan said the move would allow authorities to do more public-health investigations, such as by tracking down patients' contacts, which are needed to contain the outbreak.
The vast majority of Thursday's newly confirmed cases— 13,332—were retroactively reclassified. But the broader classification rules mean the daily rise in the number of new cases could continue to gain because more undiagnosed cases might come to light.
Zhong Nanshan, head of a National Health Commission task force on the virus, sought in recent days to alleviate public fears by saying the outbreak might peak before March.
On Wednesday, just hours before Hubei health authorities announced their new numbers, China's official Xinhua News Agency touted a drop in the number of daily new confirmed cases. Xinhua noted it had steadily fallen from nearly 4,000 on Feb. 4 to just over 2,000 on Tuesday, citing National Health Commission data.
Goldman Sachs Group Inc., pointing to those figures, told clients in a note Wednesday that "the spread of the virus has slowed, as the number of new confirmed cases nationwide has gradually declined." Shortly after, the U.S. stock market opened with the Dow Jones industrials popping.
The Thursday jump in cases threatens to damp that optimism, though experts remain divided on whether it changes the longer-term outlook.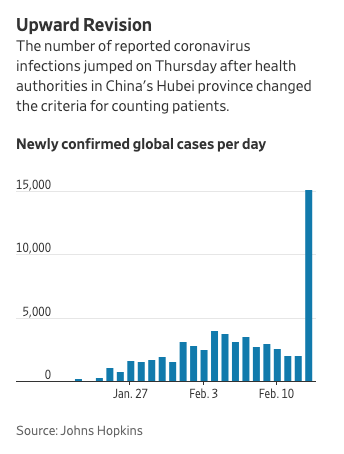 Goldman, in a note after the new figures were released, said that while the sharp rise doesn't imply a renewed acceleration in the spread of Covid-19, as the disease is known, it would be "theoretically possible" to see other changes to the definition of cases in Hubei again or other provinces in the future.
Authorities don't yet have an accurate estimate of the number of infected people in Wuhan, Chen Yixin said earlier this week. Mr. Chen, a top law-enforcement official from Beijing helping oversee the crisis in Wuhan, added that "the base number of potentially infected Wuhan may still be relatively large."
John Nicholls, a coronavirus expert and clinical professor of pathology at the University of Hong Kong, said that the "change in criteria doesn't mean that there is a rise in the actual infections" but rather it is "casting a wider net to pick up what the true incidence of the infection is."
Mr. Nicholls, however, warned that the reclassification of earlier cases in Hubei will "provide a challenge for retrospective analysis of data," making it more difficult to get a sense of the larger trajectory of the coronavirus's spread.
Hubei province's Thursday tally of 242 deaths included 135 patients who had been only clinically diagnosed with the coronavirus. It didn't count any earlier deaths that had been only clinically diagnosed.
Excluding Hubei province, the rest of China has continued to see a steady drop in the number of new cases, reporting just 312 Wednesday for a ninth straight day of declines.
Still, the outbreak could be more severe than figures suggest. Unlike Hubei, other parts of China still require either gene sequencing or lab tests to confirm the pathogen, meaning not all cases may be being detected and tallied.
Initially, health authorities in Hubei province had counted a patient as a confirmed infection case only if a laboratory test provided pathogenic evidence of the virus. Questions around the reliability of the test, however, pushed authorities to broaden their criteria to include clinical diagnoses, in which doctors can confirm a case based on symptoms, without pathogenic evidence in a laboratory test.
In a document circulated to hospitals across China last week, the National Health Commission updated its case categories for Hubei to separate clinically diagnosed cases out from suspected cases. Hubei patients whose chest scan showed signs of pneumonia would be included in this category, while those whose chest scan didn't would remain as suspected cases.
Hubei's health commission said the goal was to let more patients be treated as confirmed cases, so that more could be cured. Officials spent the past few days combing through suspected cases, the statement said, to identify the thousands of cases added to the province's confirmed tally on Thursday, which now stands at more than 48,000 cases.
At the same time, Hubei began blanket screening using the looser diagnostic standards, picking up patients with fever whose chest scans showed lung infections, and sending them to designated hospitals.
Only 20% to 30% of all pneumonia cases can be proven in testing to be linked to any pathogen, Tong Zhaohui, a respiratory disease doctor from Beijing Chaoyang Hospital, told China's state broadcaster.
The policy shift was motivated in part by a recent increase in hospital capacity in Wuhan, including two newly opened prefabricated hospitals, according to Hu Yang, a respiratory diseases expert based in Shanghai.
Members of an international team of experts led by the WHO will start arriving in China this weekend, Dr. Ryan said. A three-person advance team has been in Beijing this week discussing with Chinese officials the scope of the larger team's mission. Dr. Ryan declined to disclose the names or countries of members of the team.
Zhou Yu, a 32-year-old cello teacher in Wuhan, and her two parents all tested negative for the coronavirus in lab tests. They have struggled to convince authorities that they suffer from the virus, despite exhibiting telltale symptoms like coughing and fever.
A chest x-ray of Ms. Zhou's father showed that one of his lungs was infected, though it was inconclusive as to whether he had the coronavirus. Because of that uncertainty, Ms. Zhou had been unsuccessful in helping her father get quarantined until Thursday's reclassification.
The reclassification throws a wrench into efforts by experts to get an accurate sense of the scope of the outbreak. Without reliable numbers on the number of patients infected, it is harder to calculate the mortality rate and the reproductive rate of the virus, known formally as Sars-CoV-2, that help them decide measures to combat the outbreak.
Zeng Guang, a prominent epidemiologist affiliated with the Chinese Center for Disease Control and Prevention, cautioned on his Weibo account Wednesday that even if the outbreak's turning point had been reached, the epidemic could pick up speed after 160 million people return from their hometowns, to which many had traveled for the Lunar New Year holiday, to where they work.
"What I worry most is that the downward trend we saw lately is because the statistical data was behind the time of infection, and thus has masked the actual upward trend caused by the return trips, making people relax their vigilance," Mr. Zeng said.