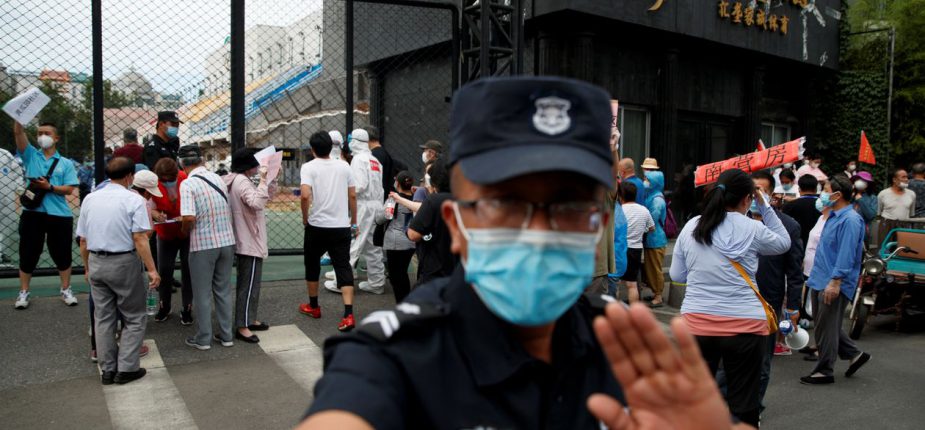 Officials in Beijing have responded to the latest cases with mass testing. People waited for tests on Monday. PHOTO: THOMAS PETER/REUTERS
Society
New Covid-19 Outbreak in China Rattles Beijing
| le 16 June 2020

Residents of capital had started to relax after weeks without new locally transmitted cases; 'Oh my God, again'
By Sha Hua – The Wall Street Journal
HONG KONG—Travel plans evaporated, parents kept children home and anxiety returned as China's capital came to terms with a new outbreak of the novel coronavirus after many in the city had started to relax the habits adopted during the height of the pandemic.
"I was like, 'Oh my God, again,'" said Shawn Wang, a civil servant who lives roughly 2 miles from the wholesale market in Beijing's southwestern district of Fengtai where the new cluster of Covid-19 cases was discovered.
The market, a sprawling complex of warehouses and trading halls known as Xinfadi, supplies 80% of Beijing's fruits and vegetables. Since Thursday, health authorities have traced 79 new coronavirus infections to the facility, which ships food to other markets and restaurants all over the city of more than 21 million people.
Before the discovery of the first case in the market on Thursday, Beijing had gone eight weeks without registering a new locally transmitted Covid-19 case.
The sudden return of the virus has rattled residents, who had been easing back into the rhythms of regular life after a period of strict pandemic controls. While movie theaters remained closed, many restaurants and shops had reopened, and traffic had returned to clog the city's notoriously crowded streets.
"I was worried because Xinfadi is close to my home," Mr. Wang said. "So many cases have emerged these past two days, which makes things feel even more dangerous."
Mr. Wang noticed vegetable supplies in his local market starting to dwindle. He said his residential community reimposed pandemic controls, including temperature checks at the front gate, and has offered residents the chance to be tested.
Fengtai tech worker Chole Tan, who underwent a free test for the coronavirus at her local hospital on Sunday, said she and others she knew had started to let down their guard when it came to the virus.
"With so many days of zero cases, people started to relax and many wore their masks either not very properly or even at all," said Ms. Tan, who lives 2½ miles from Xinfadi. Now, she said, the vigilance has returned. "Housing management asked us to avoid going out."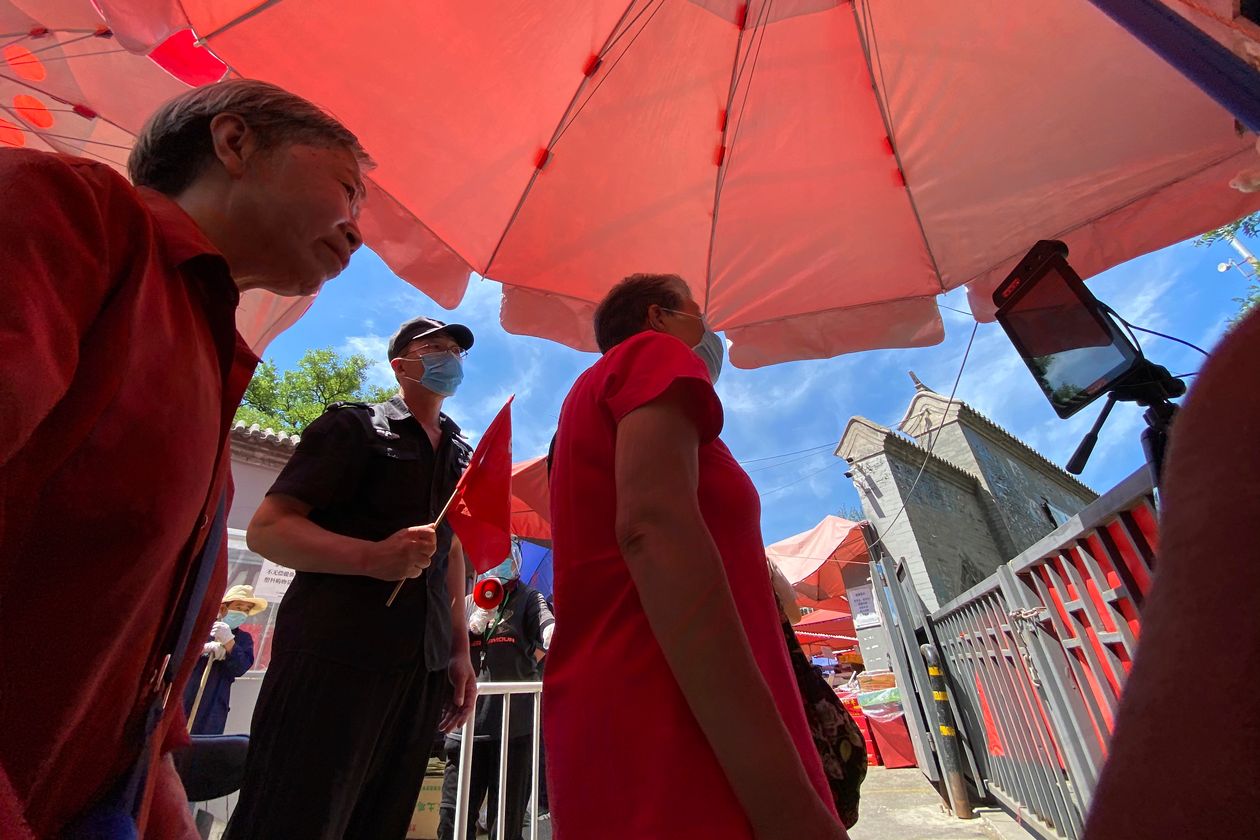 As has been the pattern for China's government in the face of new Covid-19 clusters, officials in Beijing have responded with mass testing and the mobilization of large numbers of low-level officials, workers and volunteers. Close to 100,000 people were organized by neighborhood committees to visit the city's more than 7,000 residential compounds and urge anyone who had recently visited the market to get tested, Xu Ying, a senior Beijing government official, said at a news conference on Monday.
By Sunday, more than 76,000 people had been tested—including almost 13,000 of the more than 29,000 people reported to have visited the market since May 30 and 40,000 residents nearby, according to Beijing government statistics. Residents braved summer temperatures of up to 95 degrees Fahrenheit to get tested at almost 200 stations set up all over the city.
Several of the city's neighborhoods, including the financial district, saw their risk levels raised from low to medium. On Monday, authorities locked down 10 residential neighborhoods near a market in the northern district of Haidian after an asymptomatic case was found there, almost doubling the number of citizens prohibited from stepping outside their apartments from roughly 46,000 to 90,000, according to official data.
The government suspended plans to let some primary school students return to class on Monday, leaving many parents scrambling.
Liu Chang, a mother of two girls, described the decision as difficult to swallow after months of home schooling.
"Given the quick reactions this time, I am confident that the Beijing government is capable of putting the virus under control," Ms. Liu said. "But the school suspension was a big blow to us."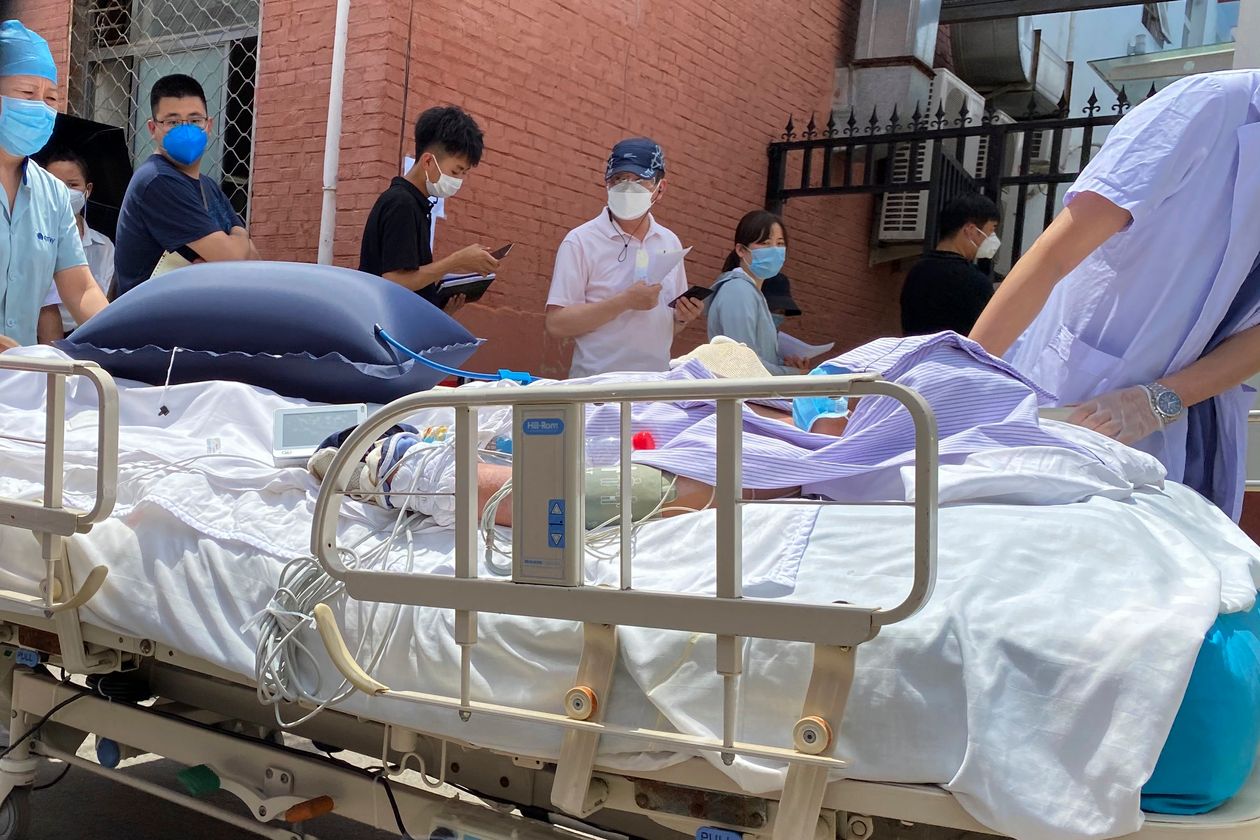 Worried he wouldn't be allowed back into the city, the civil servant Mr. Wang canceled plans to return to his hometown in nearby Hebei province for the upcoming Dragon Boat Festival. Ms. Tan, the tech worker, also said she scrapped holiday getaway plans.
Several cities and provinces in China warned residents against travel to Beijing, while others said they would subject people arriving from Beijing to testing and quarantine.
Public-health experts continued to hunt the source of the cluster, with authorities focusing attention on samples they found on a cutting board that belonged to a Xinfadi vendor who sold imported salmon. In an interview with state-run Chinese Central Television on Sunday, the China Center for Disease Control's chief medical expert, Wu Zunyou, said the virus could survive on the surface of frozen food for up to three months and it was most likely that contaminated goods were the source for Beijing's cluster.
Yang Peng, a researcher at Beijing's CDC, told CCTV that DNA sequencing of the virus suggested it could have come from Europe. "We still can't determine how it got here. It might've been on contaminated seafood or meat, or spread from the feces of people inside the market," he said.
Dale Fisher, a professor of infectious disease at the National University of Singapore, said that while the virus could live longer if refrigerated or frozen, he thought it was more likely to have been transmitted from an asymptomatic person or someone with mild symptoms, who were unaware they had the virus.
Meanwhile, health authorities in the central Chinese city of Wuhan, where the coronavirus pandemic first broke out, lowered the emergency response level over the weekend, allowing indoor sports and entertainment facilities to reopen and making masks no longer mandatory outdoors.