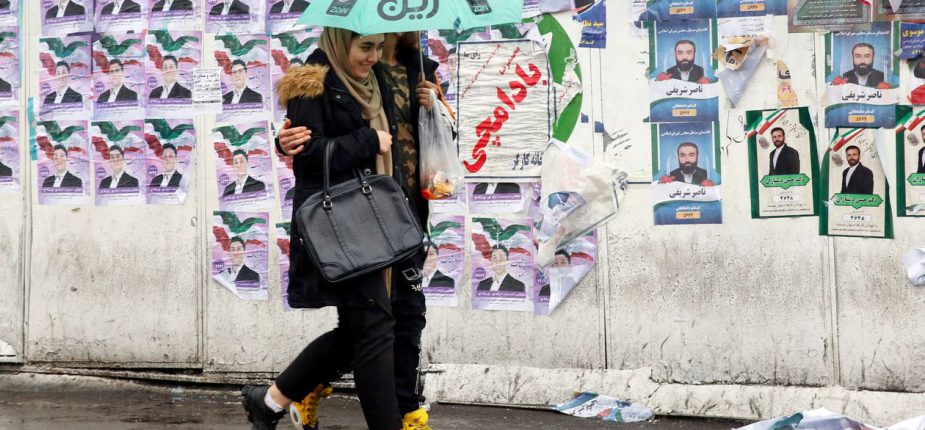 An Iranian couple walking past electoral posters in Tehran on Thursday, a day before parliamentary elections. PHOTO: ABEDIN TAHERKENAREH/EPA/SHUTTERSTOCK
Politics
Iran Elections Come Against Background of Tensions at Home and Abroad
| le 21 February 2020

Conservatives seek to bolster power; some threaten boycott after many reformist candidates disqualified
By
Iran's leadership is pushing for a high turnout at Friday's parliamentary elections, as conservatives seek to consolidate power in the face of mounting economic challenges at home and worsening tensions with the U.S.
Many Iranians are threatening to boycott the vote after a large number of moderate and reformist candidates were disqualified, with some expressing frustration over the legislature's failure to address concerns such as the country's flagging economy or strict Islamic laws.
"I won't be part of the show as long as I can't see my favorite candidate who I genuinely support and believe in. I won't choose between bad and worse anymore," said a 53-year-old homemaker here in the capital.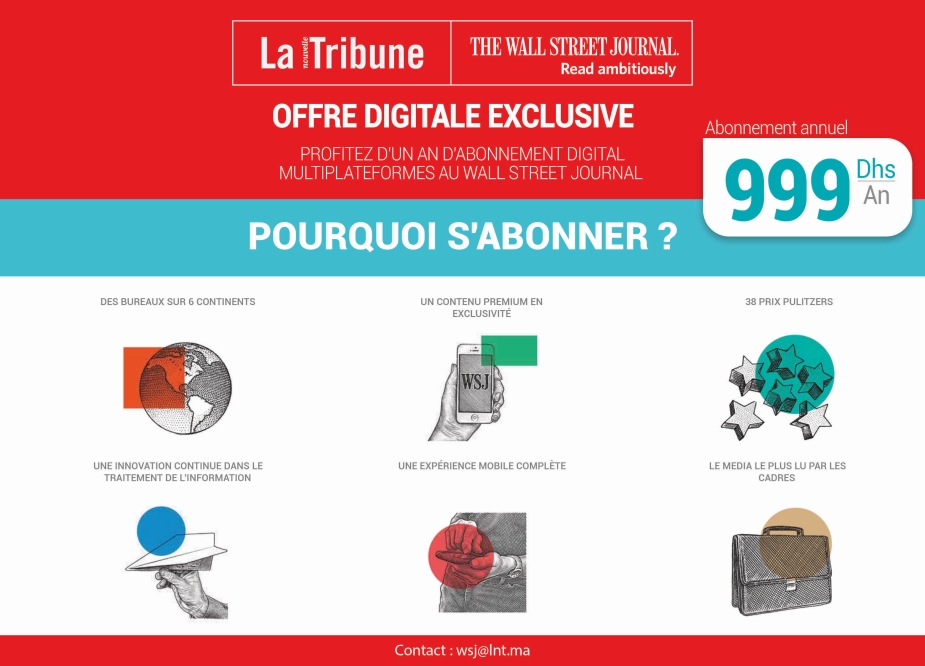 Since the 1979 Islamic Revolution, elections have been an important way for Iran's establishment to build consensus at home and create an outward display of strength, said Sanam Vakil, deputy director of the Middle East and North Africa Program at Chatham House, a London think tank. Among its other tasks, the legislature passes laws and can challenge government policy, in addition to impeaching ministers.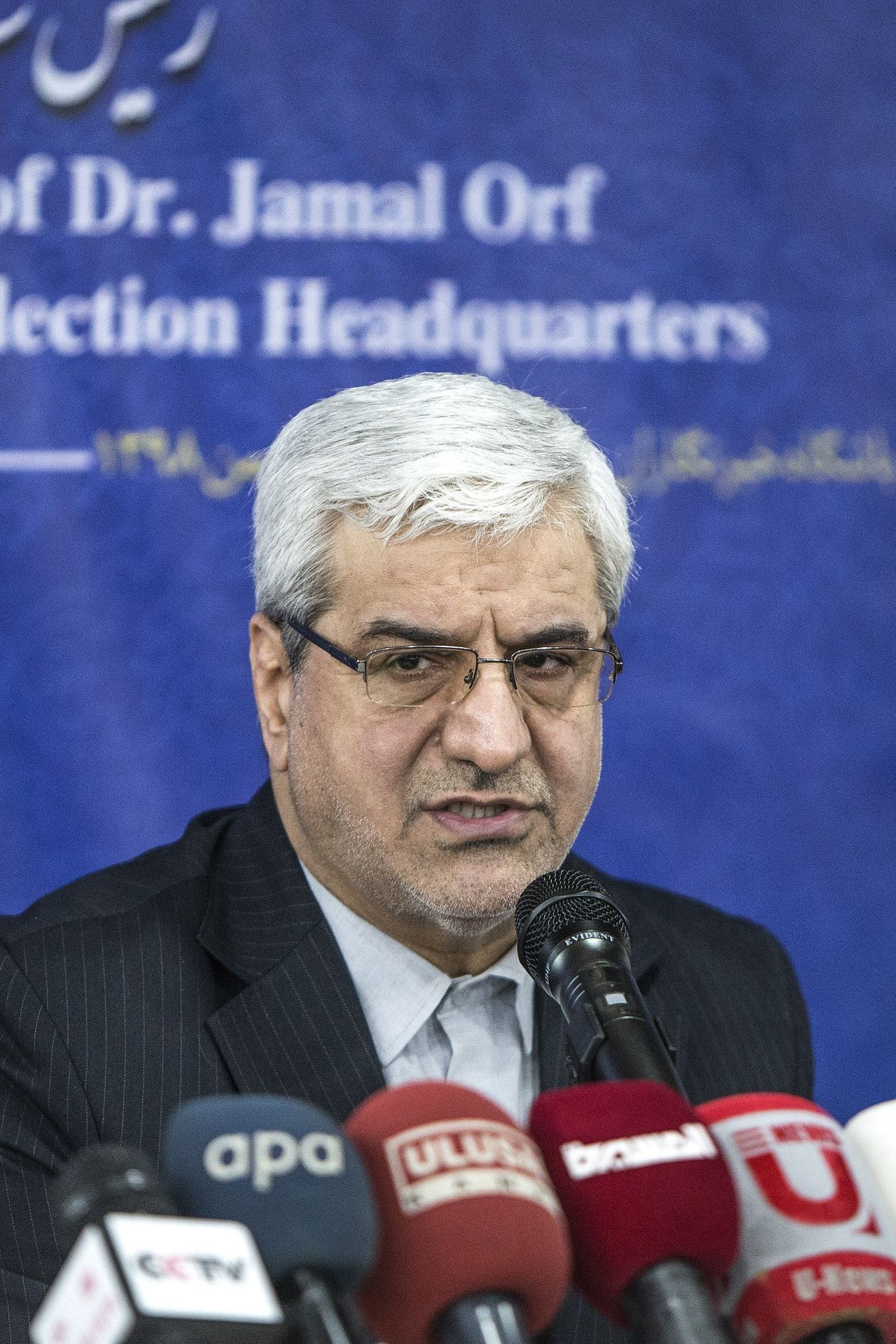 "The fact that Iran has elections, albeit managed ones, is used to demonstrate that the Islamic Republic is more legitimate than other countries in the region," she said.
That image is especially important now, experts say. In November Iranian authorities violently suppressed a wave of protests over the country's economic woes, which have been aggravated by sanctions the U.S. imposed after pulling out of the 2015 nuclear deal. A second wave of unrest followed the Iranian military's downing of a Ukrainian airliner in January, and its attempt to cover it up.
Tehran has carefully selected which candidates are allowed to run for the 290 seats in the country's legislative assembly.
The Guardian Council, a 12-member body tasked with upholding Islamic law and supervising elections, assessed some 16,000 candidates who signed up to contest the ballot. Only around 7,200 were allowed to appear on ballots, the lowest approval rate in the history of the Islamic Republic. About one-fourth of the current lawmakers were among those banned from running.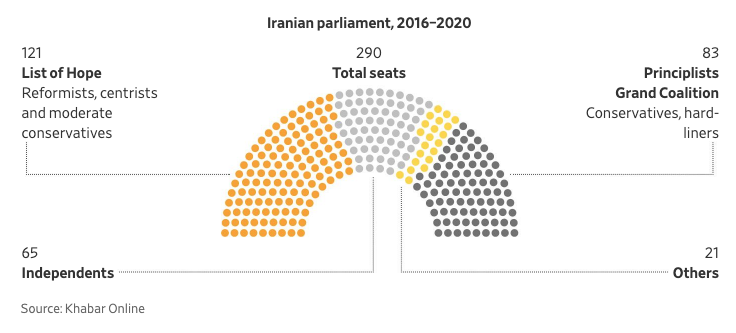 President Hassan Rouhani, a moderate in Iran's political system, has complained that too many candidates were ruled out from his side of the aisle. But as a stalwart of the Islamic Republic, he has urged Iranians to cast their ballots to stand "against the global imperialism for our children," as he said Wednesday.
"We should know that our mass presence and enthusiastic queues…will upset America, while our absence will make America happy," he said in a cabinet meeting broadcast on state television.
Social-media users, imprisoned activists and Iranians abroad have led the boycott calls. A recent poll by the nongovernmental Iranian Students Polling Agency said only 21% of residents in Tehran plan to vote. A recent outbreak of the coronavirus here may also hurt the election turnout. Authorities on Thursday announced emergency measures in the central city of Qom after the death of two people diagnosed with Covid-19, the disease caused by the virus.
"Compared to the past, this time there is not much enthusiasm about the elections," said Hamidreza Jalaeipour, a lecturer in political sociology at Tehran University. "The country has problems and it needs people's participation. Nobody is happy with foreign interference. It was far from wise to conduct such disqualifications."
Guardian Council spokesman Abbasali Kadkhodaei on Wednesday said the disqualifications weren't political. Sitting lawmakers were banned only for financial misdoings, moral issues or for acting against the interest of the Islamic Republic, he said.
Supreme Leader Ali Khamenei this week called voting a religious duty. His comments resonate with some Iranians who consider turning out to vote on Friday.
"I vote because it's good for my country and for my future," said a 27-year-old man who lives in Tehran.
Other Iranians have swung behind the government after a U.S. airstrike killed Qassem Soleimani, Iran's most prominent military commander and a man widely viewed as a defender of the nation.
"We should show the enemy that no matter what, we support our country and leader," said Zahra, a 21-year-old student. "Not voting means we didn't care about Gen. Soleimani's blood and it's gone wasted."
Some voters complain that moderates don't achieve much even when they are elected. In the last election to the parliament in 2016, a bloc of reformists and centrists gained 41% of the seats, compared with 29% for hard-liners and conservatives and 28% for independents. Yet that moderate and reformist bloc has achieved little, some voters say.
"MPs who speak out against the system's radical policies haven't been able to change anything. So you tell me: Why bother?" said Bardia, a 42-year-old IT manager at a state-run company.
Yet by making Friday's election so partisan, some political analysts say, the regime might have missed an opportunity to build on the national outpouring of grief that followed Gen. Soleimani's death, which brought millions of people into the streets.
"This election was a chance for the political system to show it pays attention to public worries," said Mr. Jalaeipour, the lecturer.