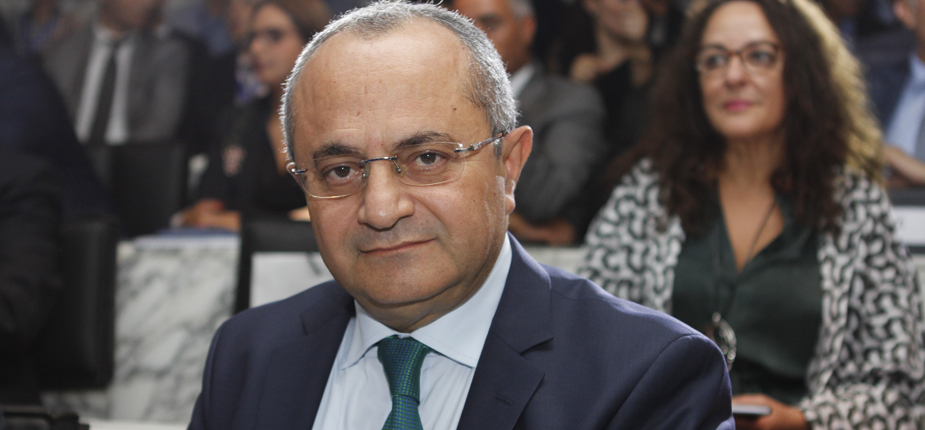 Morocco
Interview with Brahim Benjelloun: "The benefits of an open economy go far beyond reducing trade or budget imbalances"
le 17 October 2019
Mr Brahim Benjelloun Touimi, a banker by trade*, is also an eminent member of the country's fraternity of top-level economists. A frequent participant at Aix-en-Provence's Rencontres Economiques, in this Special Edition, he shares with our readers his thoughts and analyses of the main causes and consequences of the upheavals that are currently being felt as a result of an increasingly outdated form of globalisation. He also offers his view about the issues, challenges and conditions that are needed to engineer a domestic economic growth recovery.
La Nouvelle Tribune: Mr. Benjelloun-Touimi, you are an economist as well as a banker*. You were invited to the recent Rencontres d'Aix in France (5-7 July 2019), organised by the Cercle des Économistes. The common thread to this three-day conference was 'How to restore confidence?'. I would like to ask you a number of questions about this and get your own personal opinion, not necessarily the opinion of the banking institution that you represent. Why is it that developing countries as well as emerging countries, the BRICS, also formerly known as the 'Dragons', are no longer considered to be the future growth drivers of the global economy?
Mr Brahim Benjelloun Touimi: The term 'emerging countries' does not have the same meaning for everyone. Differentiation is now being made between the elite group of BRICS countries and the others. In the eyes of financial investors, Morocco, for example, is not usually included, even if it is legitimately part of this category from a geopolitical point of view. It is called, like many others, a 'frontier market' or 'frontier' economy.
The current crisis, that of the liberal world order, explains the increasingly inward-looking approach adopted by major Western countries. Developing countries, more so than genuinely emerging countries like Brazil, India or Russia, feel that they are being left behind, insofar as the multilateral system is weakening. Given these developments, it is therefore easy to understand why countries were genuinely keen to get on with signing, in Niamey, Niger, a few weeks ago, agreements establishing the African Continental Free Trade Agreement (AfCFTA). However, we cannot underestimate the importance of China, now a global superpower. Its New Silk Road initiative is a genuine global infrastructure investment programme that aims to integrate the Chinese economy into the global economy and, in particular, the economies of 'emerging countries'.
As part of an operational strategy that is already up and running, it is committing significant funds to a number of developing countries. It is clear that China has a 'global plan' that includes Africa. That could not be said of many other economic powers …
Mr Benjelloun-Touimi, America is turning its back on Latin American countries, which are succumbing to political and economic crises, despite the fact that they are neighbours of this global superpower. Is it not possible that Europe will adopt a similar approach towards its neighbours in the South?
In my opinion, what is happening today in the United States is simply an episode in American history. It is the realisation, undeniably violent, that globalisation, as it has panned out in recent years, has been, as far as the US' relations with its partners are concerned, particularly with China, unbalanced and to its disadvantage. Objectively, this relationship has been characterised by an uneven balance of trade, non-respect of intellectual property rights, the absence of reciprocity in opening up markets, etc. But this is just an episode in the history of this great country.
An administration, because it is democratically elected, will last for a maximum eight-year term, should the incumbent President be re-elected. It is difficult to see the United States implementing all the threats made and pursuing a genuinely hostile policy towards its allies and the rest of the world. This crisis is due to a fundamental shift in the 'global paradigm'. The transition is painful for many countries and regions around the world. Globalisation has generated many inequalities. This transition is now in full swing, but we generally don't know where it is heading, with the possible exception of an elite class 'in the know'. The 'common man' does not yet grasp the breadth and depth of it and sees only its short-term effects and, with good reason, its potentially detrimental side.
That explains this profound sense of malaise, the inward-looking postures adopted and the American position. I do not see Europe heading in the direction that you are describing. Human factors, such as the close geographical and historical ties that exist between European countries and their southern neighbours, cultural and economic proximity, and migration issues, are likely to be more than enough to contain any blip of this kind.
There is a big question mark about US policy risk and the direction in which the world is heading as a result…
The current administration's policies will certainly leave their mark on international relations in the twenties, particularly as far as security and defence aspects are concerned. As for the rest, the United States is not a centralised but a federal state. Despite the US withdrawing from the Paris Agreement on Climate Change, a number of American states remain as committed as ever to promoting a 'green economy' (clean energy, a circular economy etc.), which is not the case at the centralised level. The US is, thanks to its private sector, endowed with an extraordinary adaptive capacity that fuels its 'melting pot'. This leads me to believe that it will not be unilateralist and isolationist for long. There are going to be so many changes as a result of the extraordinary nanotechnology revolution, biotech, big data, artificial intelligence, automation, in short, the information and knowledge economy! The impact from these technologies on everyday life, on the way in which businesses and economies are structured, on the nature of work and the labour market has not yet been fully felt… At this stage, the only conclusion that we are able to draw is that this 'conceit-laden outburst' by the United States is harbinger of a radical and definitive change in American policy towards isolationism or introspection.
Should we then think that globalisation is over?
No doubt, yes, at least the sort of globalisation that we have become accustomed to in recent decades, an economy based on fossil fuels, a US-Soviet bipolar world which then gave way to a multipolar world. Specifically, the multipolar nature of today and tomorrow's world will see new economic superpowers emerge as a result of their innovation capacity. More and more countries or regions will hold a monopoly or exclusivity by comparison with those that previously did so. In fact, a new type of globalisation will emerge, as was the case before at other times in history. The Islamic Empire and the Roman Empire were a form of globalisation, so too Europe, which came about as a result of the Napoleonic Wars, just like the empires established through colonisation…
So, has Morocco's decision to open up its economy been superseded? Is it still a sensible option?
As a Moroccan citizen, I am convinced that it is indeed a sensible choice, from the outset, to anchor itself to Europe and the Euro-Moroccan strategic partnership. This alliance will prevail despite the ups and downs that the Old Continent may be currently experiencing and despite everything that we are doing in Africa, which is tremendous in itself. Even disunited, the EU-27 will continue to be the world's leading economic superpower for some time to come. I'll lay a wager that post-Brexit Europe will get back on track, embracing, no doubt, a new form of European integration, different from what existed before, by that, I mean 'extensive'. It will probably be more 'intensive', built around 'concentric circles' that will widen under the influence of the Franco-German axis, as illustrated by the recent appointments of Mrs Ursula von der Leyen as President of the European Commission and Mrs Christine Lagarde as incoming President of the European Central Bank, the EU's two main institutions. Our country has made the courageous decision to open up its economy although the 56 Free Trade Agreements that it has signed have not helped it to balance its trade balance, to put it mildly. Instead, it is worth considering the benefits to the economy from foreign direct investment and foreign exchange from tourism and migrant remittances. It is also worth considering the benefits from adopting an open attitude to others amid a prevailing environment of freedom and tolerance that these initial choices have engendered … The multifaceted benefits of adopting an open approach go far beyond trade and budget imbalances and, in any case, are far better than if we were to adopt a protectionist or inward-looking approach. Morocco's public authorities are leading by example when it comes to industrialisation, as far as integration into global value chains is concerned. Succeeding together means creating new ecosystems around those that are already emerging, ecosystems that engage homegrown SMEs, even microenterprises, by adopting a cluster and network-based approach to economic development. There is a clear perception that Morocco has enjoyed a number of 'dazzling successes', such as its port and airport infrastructure, the automotive industry, the aeronautics industry. The 'rest' seem to be in difficulty, however, even though commendable efforts have been made in recent years to promote a fairer geographical and spatial distribution. But infrastructure alone cannot solve the structural problems of either society or the economy, especially when government resources are finite.
At the recent Annual Conference on Taxation, Mr Moscovici, who was at the time a European Commissioner, challenged Morocco's tax incentives for European investors. Do you not feel that this type of 'external' intervention is worrying?
The position thus expressed seems somewhat dogmatic by comparison with Moroccan initiatives, such as the free zones or Casablanca Finance City. I imagine that the diplomatic arsenal, our Soft Power, is working hard to ensure that reason prevails. In fact, by multiplying alliances within Europe, with traditional partners such as France, Spain, Italy and the Benelux countries … in short, multiplying ties and dependencies is a sure way of bolstering one's independence!
Hasn't exchange rate deregulation helped open up the Moroccan economy?
Yes, I believe it has. However, hedging instruments for exchange rate volatility need to be further developed and be accessible, as far as their cost is concerned, to the least sophisticated of companies. The wider the band in which our country's currency is allowed to fluctuate, the more our 'bread-and-butter businesses' need to be able to access instruments that 'protect against uncertainty'. My feeling is that the monetary authorities have been right to adopt a conservative stance in a context in which inflation is contained, while not all macroeconomic prerequisites have yet been adequately satisfied to be able to take the next step on the path to greater exchange rate flexibility.
Is Morocco's level of public borrowing justifiable?
Do we need to limit our budget deficit to 3%? Wouldn't running a larger deficit enable us to boost economic growth? Countries, and there are several in our position, are not the 'rule-makers'. What counts is the opinion of investors and international financial organisations, regulatory authorities and rating agencies. The fact that the 'Pavlovian' 3% ceiling is still the global benchmark, at home too, breaching it on a long-term basis would have a detrimental effect on Morocco's sovereign credit rating in terms of the assessment of its economic and financial performance. Until now, the public sector has accounted for the bulk of the country's investment and growth, as can be seen from the investment-to-GDP ratio (above 30%), not to mention the contribution from domestic demand. The existing model has reached its limits, as has been formally acknowledged. This therefore reduces the need to breach this kind of rule.
To what extent can the government justifiably continue to be the largest investor in our country?
For the multiplier effect and job creation mechanism to be truly effective, the private sector needs to play its part! We cannot, on a long-term basis, compensate for the relative weakness in private sector job creation by recruiting even more civil servants. The public sector wage bill in Morocco is undoubtedly one of the highest in the region, if not the world! An expanded private sector embracing semi-official fledgling business activities is, logically, better positioned to take over as the driver of economic growth.
And now we come to the major question about restoring confidence…
Confidence is a very subjective, very psychological concept. The starting point is that we need to set about fostering confidence at an inter-personal level. If there is to be greater confidence among Moroccans, we need to be more civil, honest, disciplined and generous…
But what is the reason for this lack of confidence among Moroccans?
The unquestionable democratisation of Moroccan society over the past twenty years has led to excesses and abuses, fuelled by the failure of the education system, a phenomenon that the government has had the decency to acknowledge. The result has been increased incivility and deteriorating moral standards, in a context in which, around the world, globalisation and widening inequality have resulted in laxer moral standards and values. Today's world, and Morocco within it, are searching for a new paradigm. While some take refuge in religious values, reminiscing of an idealised past, others cling fiercely to secular values, seemingly out of touch with the reality that fundamental challenges are afoot in the country. A balance is no doubt achievable between these two approaches, so as to recreate and give meaning to the idea of 'living together'. An enlightened form of patriotism rather than narrow-minded nationalism is what is needed, devoid of any practice of emoluments and rents. And then, these various phenomena have occurred at a time when the 'end of history' occurred, a Hegelian idea revisited by the American intellectual, Francis Fukuyama. The world was supposed to get rid of social classes, culminating in a communist society … This obviously and fortunately didn't happen. On the contrary, we witnessed the fall of communism, symbolised by the fall of the Berlin Wall and the collapse of the Soviet Union! For more than thirty years, the world has evolved in the absence of any unifying ideology. Has a 'post-post-industrial' society emerged embodying a new model, one underpinned by different foundations to the ones with which we are already familiar? Certainly. Will we have to wait another twenty or thirty years before this model is permanently established, a model whose initial signs have heralded a new era? Undoubtedly. The 'comet's tail' of the form of globalisation that has existed until now has generated glaring inequality within and between countries. A new socio-economic paradigm is emerging that is still in its embryonic, crudest form, based as much on geography as on networks. It's a form of democratic representation that will need to evolve over time, so that people can see that their elected representatives engage with the local issues that affect them, as well as belonging to global peer communities. It's a very difficult transition to grasp, even for the most enlightened of minds.
In the immediate future, "how then can confidence be restored" to boost economic growth?
Restoring confidence should not only be confined to economics. That would be too restrictive. Economists, imbued with a strong sense of humility, should not simply content themselves with the certainties relating to their specialty. The economy, while continuing to display its technical and statistical attributes, merits readopting, or at least asserting more forcefully, its highly political dimension, without resorting to politicking or partisanship. Which means that the underlying question would be 'what for', in two simple words. What are we doing and for what purpose? Restoring confidence is all about rebuilding common values. Today's world seems to lack meaning. Europe is divided, America is under pressure, liberal countries are tempted by populism, China is perceived as being controversial, which strikes fear into its partners, although the country simply aspires to regain the stature that it enjoyed until the end of the 18th century, that of leading economic power. This sense of confidence has to be underpinned by a common set of values that the majority buy into. But, in today's world, the government is not solely responsible, the corporate sector and citizens must also take responsibility. Regardless of their role or function, each stakeholder must give meaning to its role. That surely is what corporate social responsibility is all about. It means rethinking the democratic model, a model that advocates responsibilities and duties and not just rights, a model based on a genuine determination to 'live together', both within our borders and among the wider community of humankind, by vanquishing the cynicism that the world has instilled in so many. In fact, it is not enough to know 'the price of things', but rather 'their true value'.
Interview conducted by Afifa Dassouli
(*) Mr Brahim Benjelloun-Touimi is Chief Executive Officer of BMCE Bank of Africa and Chairman of BOA Group.
The opinions expressed in this article are those of its author.