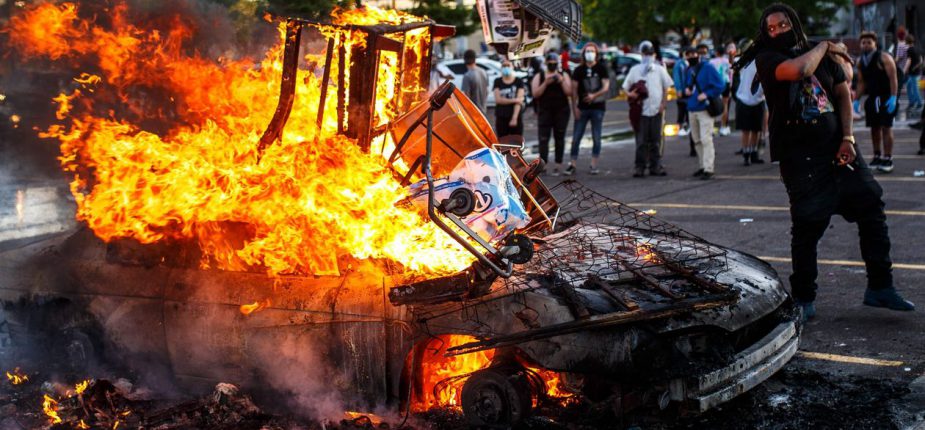 Society
George Floyd's Death: Minneapolis Mayor Urges Calm as Protests Spread Across U.S.
| le 29 May 2020

City's police precinct is abandoned on third night of unrest, with Mayor Frey explaining: 'Brick and mortar is not as important as life'
By Erin Ailworth
and Ben Kesling – The Wall Street Journal
MINNEAPOLIS—Seeking to quell increasingly violent protests over the death of George Floyd that have now spread to other cities across the U.S., Minneapolis's mayor started Friday with an early morning public call for calm and disavowed a tweet by President Trump.
"Donald Trump knows nothing about the strength of Minneapolis," said Mayor Jacob Frey in an early Friday news conference.
Mr. Trump condemned violent protesters in Minneapolis in a pair of tweets sent overnight, and said he could deploy the National Guard to "bring the City under control."
"These THUGS are dishonoring the memory of George Floyd, and I won't let that happen," he wrote. "Any difficulty and we will assume control but, when the looting starts, the shooting starts."
Twitter  placed a notice on the tweet and shielded it from view for breaking what the company said are its rules about glorifying violence.
Minnesota Gov. Tim Walz sent state National Guard troops in Thursday to assist with response to the protests. If Mr. Trump issues orders, the same troops will fall under the authority of the federal government as a military force.
There was extensive burning and looting of buildings in Minneapolis Thursday night, including a police precinct that has been at the center of protest activity since Mr. Floyd's death Monday.
A large crowd of protesters in a plaza outside the Hennepin County Government Center Thursday evening waved signs and chanted demands for the arrest of the officers involved in Mr. Floyd's death.
The gathering started peacefully but grew tense shortly after the crowd began marching through the streets of downtown, and anger grew as police responded in riot gear.
Armed officers responded with what appeared to be stun-grenades and an explosion of gas that enveloped the street and sent people running with burning eyes and throats.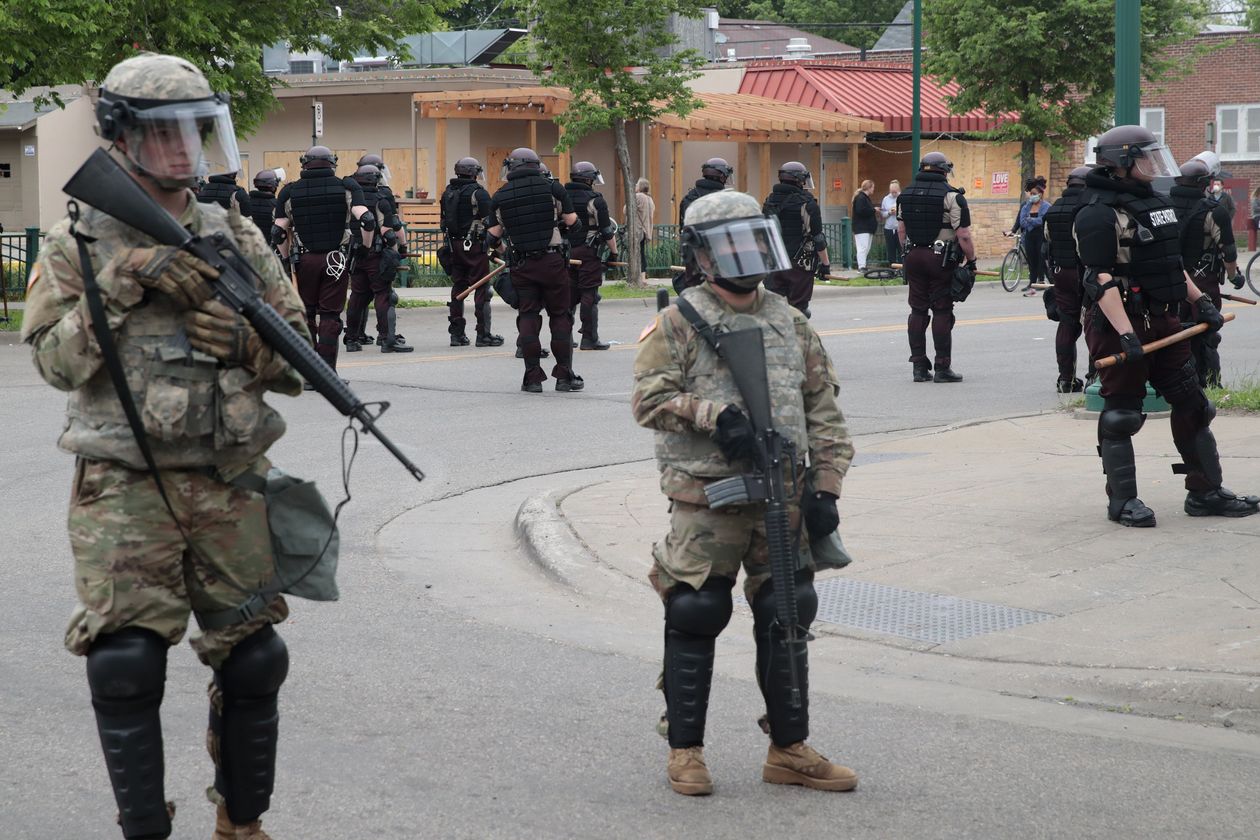 "I made the decision to evacuate the Third Precinct," Mr. Frey said early Friday, explaining why the station was apparently abandoned by officers and left to rioters. "Brick and mortar is not as important as life."
After sunrise, a CNN crew was arrested near the Third Precinct, which the network said was a First Amendment violation.
"The authorities in Minnesota, incl. the Governor, must release the 3 CNN employees immediately," said a tweet from the network's public relations account. The CNN reporters have since been released, the network confirmed in another tweet.
Protests have taken part across the country, with demonstrations in Los Angeles, New York, Denver and Chicago on Thursday.
Four police officers were fired by the Minneapolis department in the hours after they apprehended Mr. Floyd, with three of them holding him on the ground and one of those officers, Derek Chauvin, pressing his knee into Mr. Floyd's neck until he apparently passed out. The incident was captured on video and circulated on social media Tuesday morning.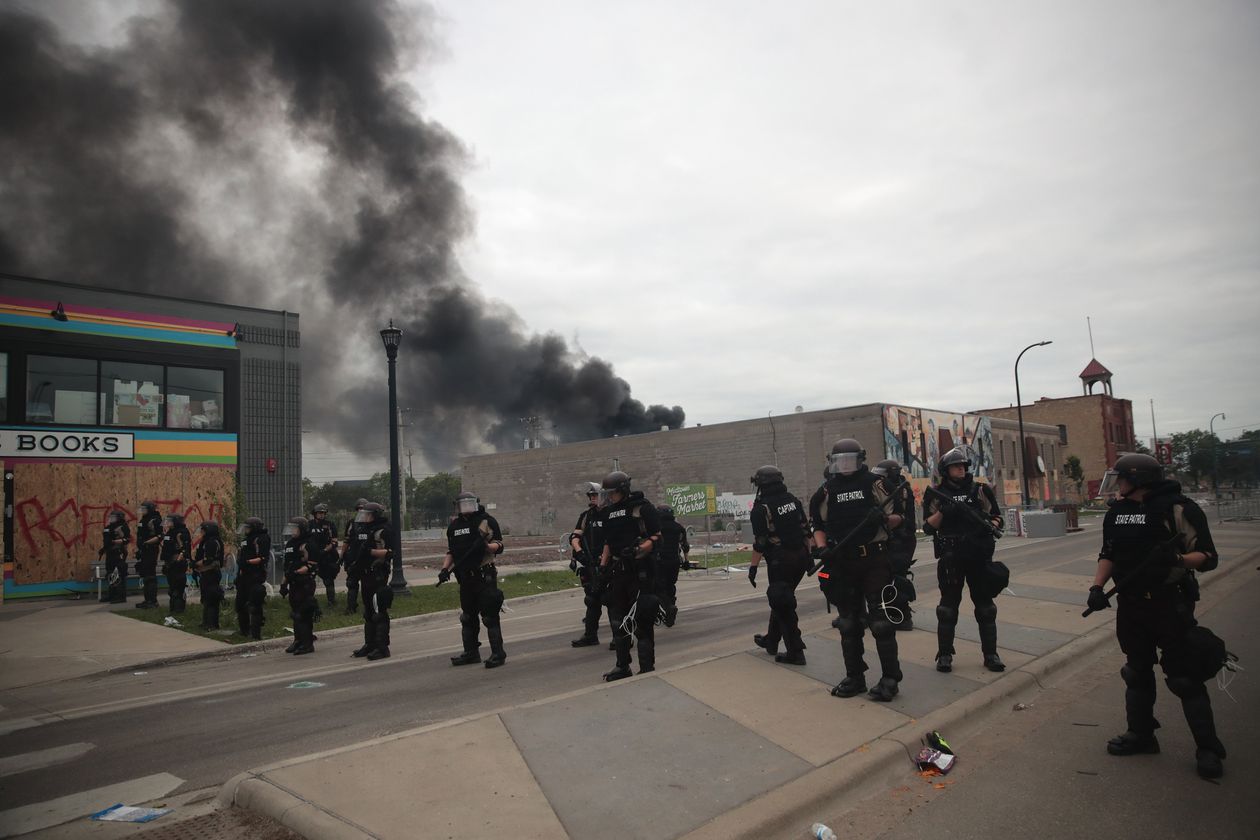 On Tuesday, the FBI announced it was conducting an investigation into the incident, and Justice Department officials and the White House quickly followed to say the matter was a top priority.
Police officials said Monday Mr. Floyd was pronounced dead at the hospital, but fire department records later released showed that Mr. Floyd wasn't breathing on his own and had no pulse before he was taken to the hospital.
Mayor Frey on Wednesday called for charges against Mr. Chauvin.
On Thursday afternoon, U.S. Attorney Erica MacDonald said it was unusual for the department to provide any information about this type of case, but that in this instance it was needed to show the community how seriously the federal government considered the matter.
Ms. MacDonald stressed she couldn't act hastily.
Hennepin County Attorney Mike Freeman, who is responsible for deciding whether to bring charges, also said he needs to use caution and precision.
Minnesota Attorney General Keith Ellison said Friday that he expects charges will be filed by Mr. Freeman.
"We are standing by and helping any way we can," Mr. Ellison told CNN. "But yeah, I anticipate there will be charges. I hope they're soon. But that is the prerogative of another prosecuting authority. They are trying to be careful. They are trying to make sure their case is strong and airtight."
On Thursday, the Hennepin County medical examiner said it was working to determine the cause of death, but that it would take time. "The autopsy alone cannot answer all questions germane to the cause and manner of death, and must be interpreted in the context of the pertinent investigative information and informed by the results of laboratory studies," the office said in a statement.
Mr. Floyd's family has pressed for a focus not only on his death, but on policing and race in the U.S. They called Thursday for a congressional hearing and were joined by the families of Ahmaud Arbery—a black man killed by white men in Georgia—and Breonna Taylor—a black woman killed during a no-knock warrant service in Kentucky.
At least seven people were shot Thursday night in Louisville during protests over the treatment of Ms. Taylor, according to the Associated Press.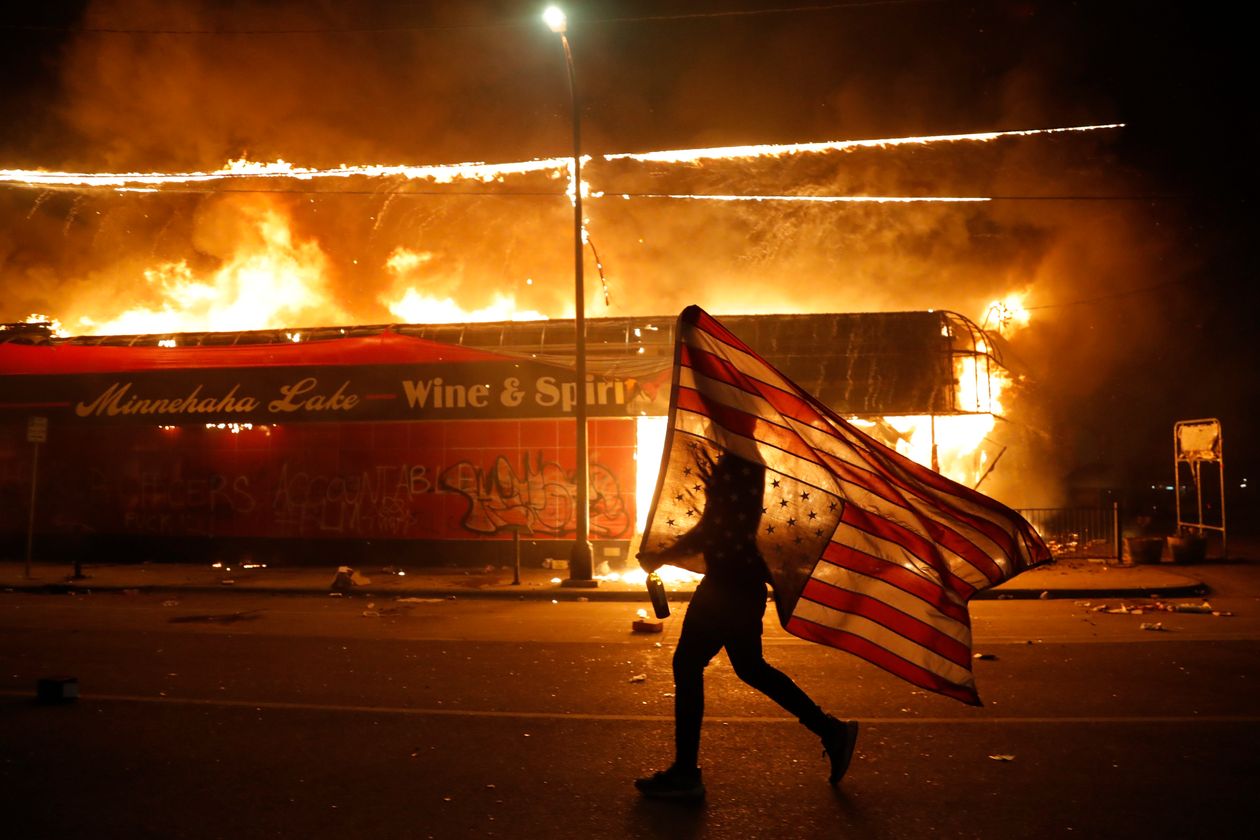 Raji Dinka, Katie Highman and Josh Simms attended the protest outside the government center in Minneapolis Thursday evening. They said they went to the Third Precinct and saw the facility abandoned by police and protestors trying to burn it down. Nearby, several businesses were on fire, including an Arby's, a liquor store, and the Target that was looted Wednesday night.
"It's hard to believe that it's real," Mr. Simms said. "I'm not condoning the riots and the looting, but this is the result of their voice not being heard."
They have shown up to protests the past three days to demand action for Mr. Floyd and greater police accountability.
Ms. Highman grew emotional as she spoke about what spurred her to protests each night.
"These are the people that are supposed to be protecting the citizens," she said of the police. "And they're not."