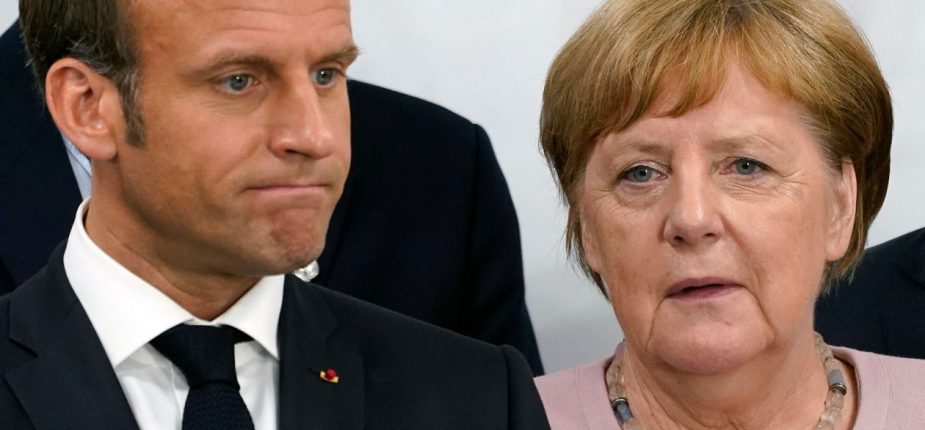 French President Emmanuel Macron and German Chancellor Angela Merkel during a news conference at the G-20 summit in Osaka, Japan, in June.
Politics
Franco-German Rift Clouds EU's Future
| le 29 November 2019

Some of President Emmanuel Macron's ambitions for bloc sit poorly with Chancellor Angela Merkel
By
BRUSSELS—A growing rift between Paris and Berlin threatens the Franco-German engine that has powered many of Europe's biggest projects.
French President Emmanuel Macron advocates bold plans centered on positioning the European Union as a force between the U.S. and China. But his disruptive style and grand ambitions have irked Germany, the biggest contributor to EU funding, and in particular its leader, Chancellor Angela Merkel.
That discord across the Rhine could hamper efforts of the EU's incoming leadership, which takes office on Dec. 1, to push far-reaching plans—many of them in line with Mr. Macron's proposals—on climate change, technology, defense and the bloc's finances.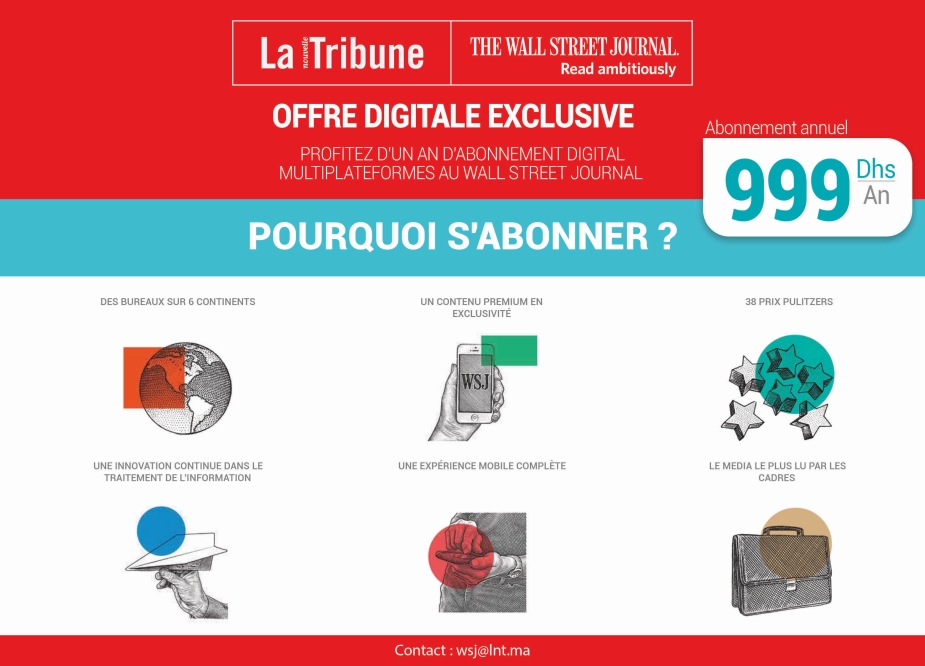 "We don't need to turn the existing order upside down," Ms. Merkel told a rally in Croatia recently, in reference to Mr. Macron's earlier description of the North Atlantic Treaty Organization as "brain-dead."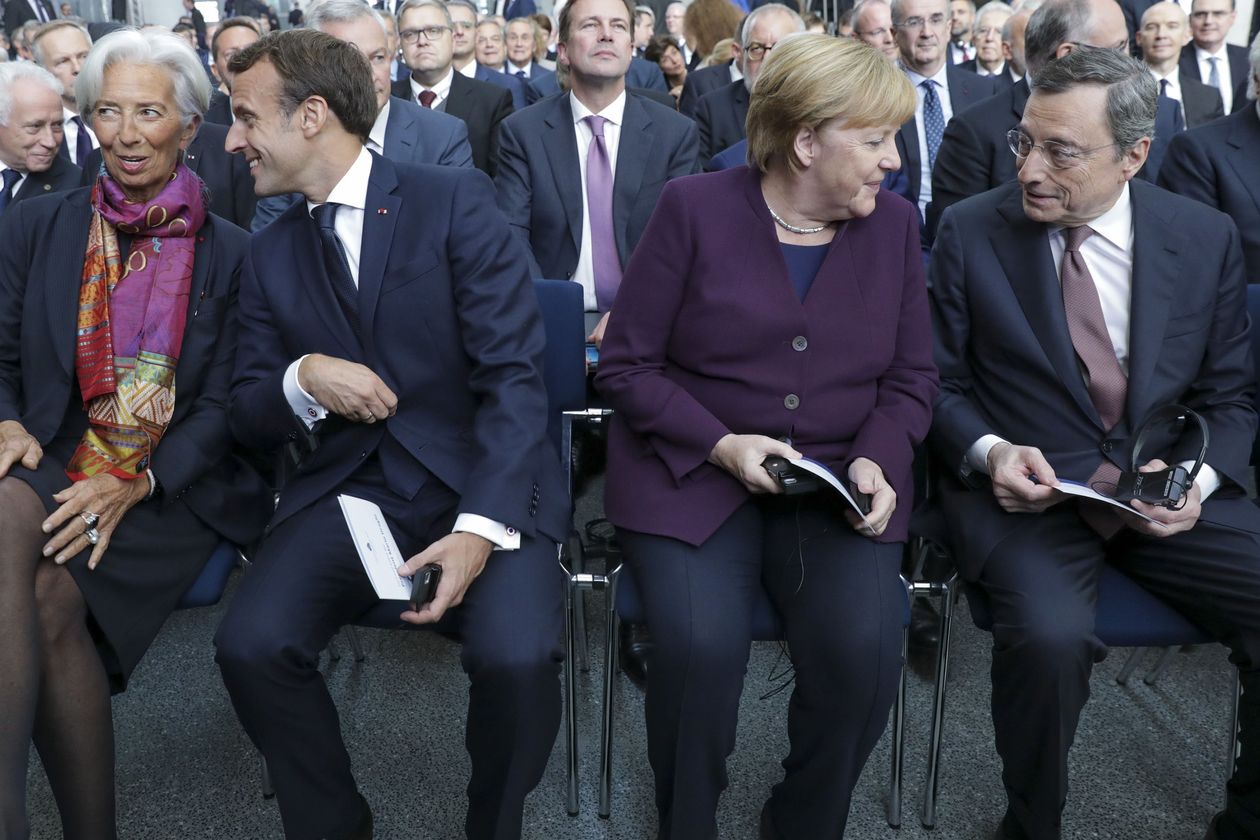 German reaction to other EU initiatives championed by the French president has ranged from indifference and muted support to hostility.
In October, Ms. Merkel pledged to back Mr. Macron's push to halve greenhouse-gas emissions in Europe by 2030 and eliminate them altogether by 2050, following months of quarrels within her coalition over how far to push climate policies. But her position lacks the support of conservative cabinet members who say the plan would disproportionately hurt heavily industrialized Germany.
Meanwhile, many Germans—not just politicians—oppose French proposals to tighten EU economic integration, fearing Germany will foot the bill.
Even on issues where the two leaders broadly agree, differences complicate cooperation. Both say Europe must assert itself more against tech giants based in the U.S. and China, in an approach known as digital sovereignty.
But Ms. Merkel favors allowing China's Huawei to bid for her country's 5G networks. Mr. Macron wants tighter restrictions, recently telling the Economist that European inaction would mean that "in 10 years' time, no one will be able to guarantee the technological soundness of your cybersystems, no one will be able to guarantee who processes the data, and how, of citizens or companies."
Personal animosity between the two leaders further complicates matters, European officials say.
"They never got along well, but now it's particularly bad," said a senior EU official who has participated in meetings alongside the two leaders. The two reportedly clashed at the EU summit in October over the bloc's enlargement plans.
The U.K.'s imminent exit from the EU exacerbates such Franco-German friction, which has surfaced in different contexts throughout the decadeslong history of the bloc. "The U.K. was balancing them out, but now they're on their own to shout at each other," the official said.
European defense is an area where the two might seem to agree, but don't.
Like Mr. Macron, Ms. Merkel supports greater Franco-German defense cooperation and developing an EU fund to pay for joint purchases of military equipment. But she doesn't question NATO's utility, as Mr. Macron does. Mr. Macron has said Europe should rethink its enlargement policy and streamline rules governing the bloc before adding members. Ms. Merkel says that unless nations in the Balkans are given hopes of joining the bloc, conflicts there might resume, strengthening the hand of Russia and other foreign powers in a region near the center of Europe.
Mr. Macron, halfway through his first term, advocates granting the 19 EU countries that use the euro more leeway on national budgets. He has also pushed for a eurozone-only budget, a position noneuro members have said would deepen the divide between eastern and western EU states.
Germany gave those plans a cold shoulder last year amid Ms. Merkel's lengthy coalition-forming process and her domestic quarrels over climate policy, frustrating and disappointing the French president.
"Macron was probably expecting too much," said Tara Varma, head of the Paris office of the European Council on Foreign Relations, a think tank. "He didn't take into account that Germany has a coalition government that can't agree on many issues and that Merkel isn't looking to transform Europe."
Ms. Merkel, approaching the end of her fourth and last term in office, is displaying less tolerance for Mr. Macron's brashness. Speaking next to NATO Secretary-General Jens Stoltenberg in Berlin recently, Ms. Merkel said she disagreed with Mr. Macron's "unnecessary" description of NATO as brain-dead.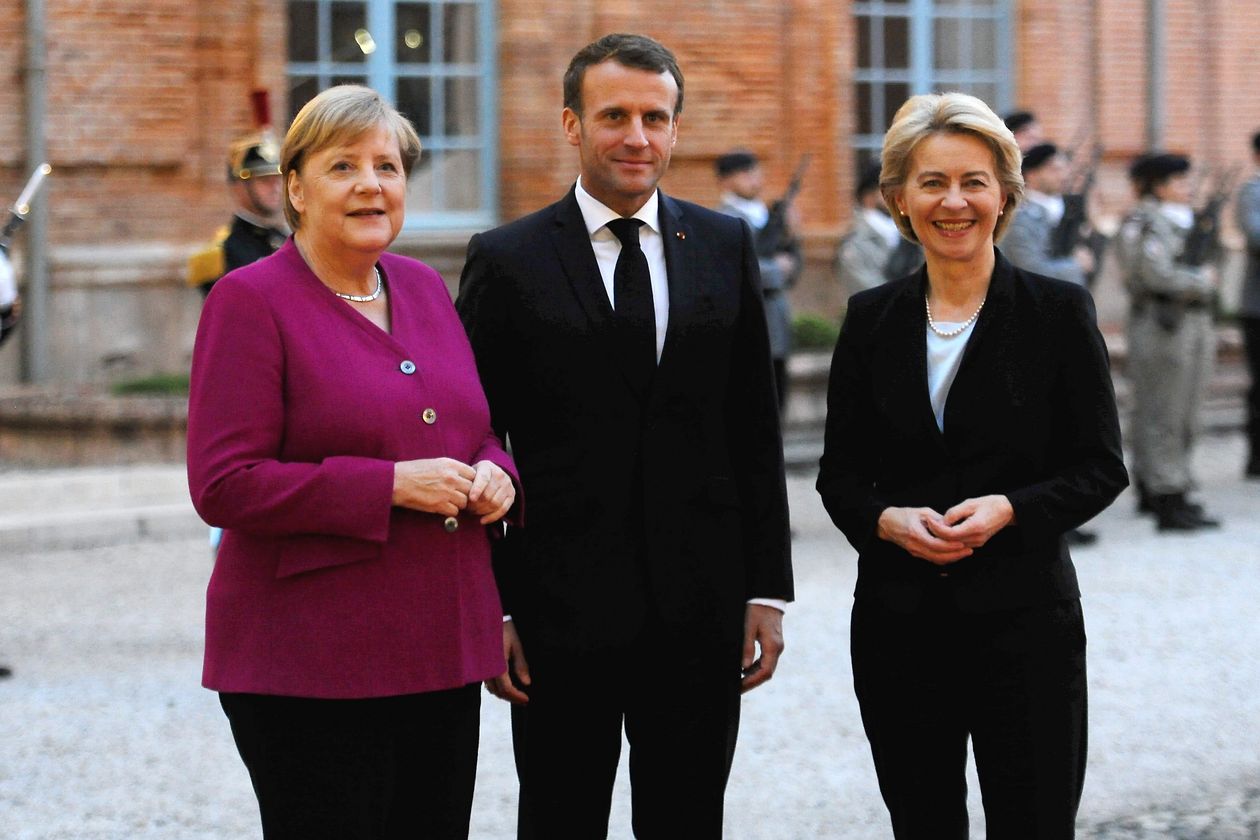 When Mr. Macron in October blocked North Macedonia and Albania from launching EU membership talks even though both had met all preconditions, Ms. Merkel said his opposition would damage the bloc's credibility. "We need to be reliable," she said.
Many of Mr. Macron's plans are high on the agenda of the incoming European Commission, the EU's executive arm, which will be led by Ursula von der Leyen, a former German minister and Merkel ally. In a twist that embodies current complexities, Ms. von der Leyen was nominated for the post by Mr. Macron.
Ms. von der Leyen is already caught between the leaders. She has sided with Ms. Merkel in defending NATO and EU enlargement. She also concurs with Mr. Macron that her team should be a "geopolitical commission" that acts as a "trusted third party" between the U.S. and China, and that leads on climate issues and human rights.
She is taking office alongside Macron allies including Margrethe Vestager, the EU competition commissioner for the past five years who was recently named one of Ms. von der Leyen's deputies.
The new team can only enact an agenda reflecting Mr. Macron's proposals with political and financial backing from all EU nations and from a European Parliament that is increasingly fragmented and unruly.
Money issues in particular risk souring the debate. Brexit is creating a €70 billion ($77 billion) hole in the bloc's next seven-year budget, starting in 2021. EU members remain far from agreement on how to fill that gap, what to cut and what to prioritize. Budget negotiations are notoriously difficult for the bloc and have a history of hijacking other issues.
Germany was initially open to French demands for a more generous EU budget but has shifted over recent months as its economic situation deteriorated, said Siegfried Muresan, a Romanian member of the European Parliament involved in EU budget negotiations and an advocate of greater spending.
"In order for von der Leyen to succeed, she needs to convince EU leaders, including Merkel, to put the money where their mouths are," he said.