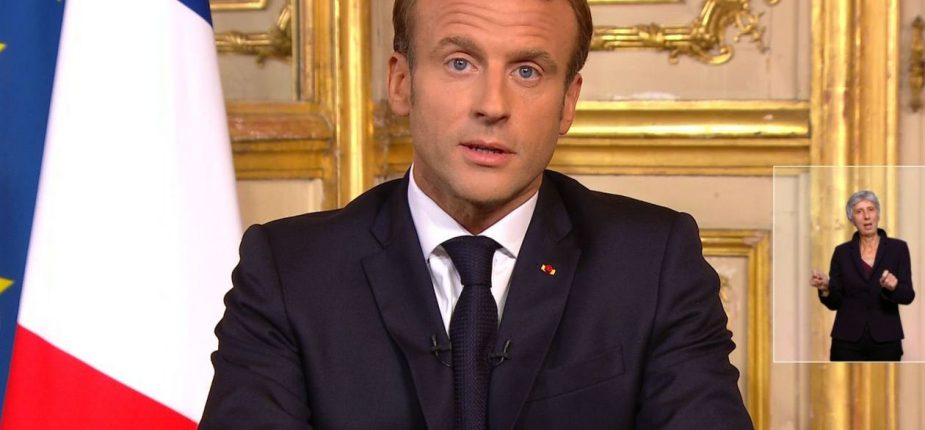 President Emmanuel Macron, speaking Thursday on French TV from the Elysee Palace in Paris, has seen his domestic approval ratings rebound.
France Unveils Billions in Tax Cuts to Reset Pro-Business Plan
| le 27 September 2019

President Emmanuel Macron faces a delicate balancing act as he tries to modernize France's economy without reigniting street violent protest
By
PARIS—The French government said it would reduce taxes on individuals and businesses by €10.2 billion as President Emmanuel Macron seeks to breathe new life into his drive to overhaul France's economy and stave off a revival of the yellow-vest protests that nearly doomed his agenda.
In presenting its 2020 budget on Thursday, the government said it planned to lower taxes on households by €9.3 billion and provide companies with tax relief through a lower rate.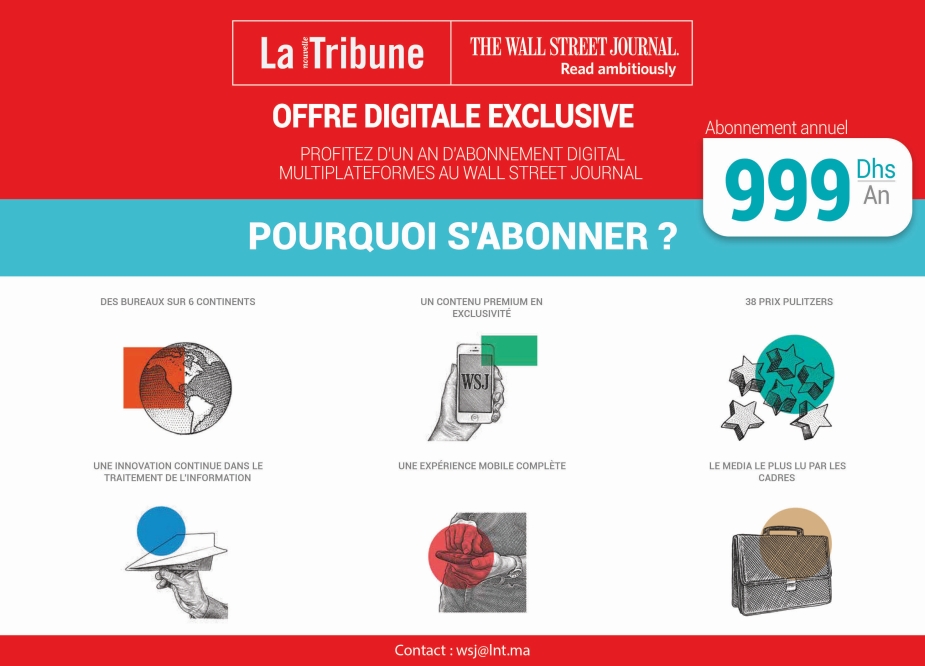 The measures, worth a total of $11.1 billion, illustrate the delicate balancing act Mr. Macron faces as he tries to overhaul France's economy without reigniting street violent protests that cast him as an ally of the rich. Mr. Macron is eager to lure investment to France, but he has also vowed to relieve the economic pain of working-class members that flocked to the protest movement, donning yellow safety vests and bringing his government to its knees.
French officials see the coming months as a make-or-break moment for his presidency before he seeks a second five-year term in 2022.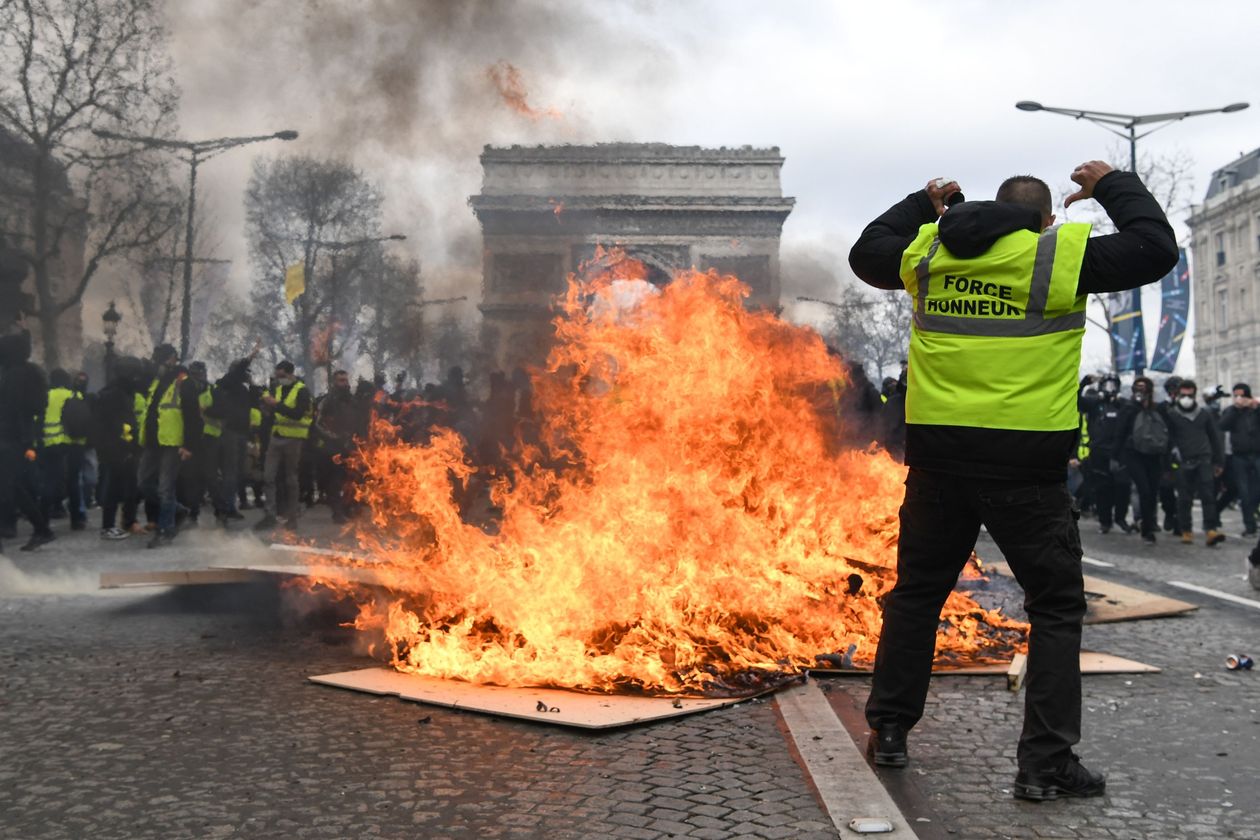 During his first year in office, Mr. Macron abolished a wealth tax and made it easier for companies to hire and fire. Companies resumed hiring, foreign investment rose, and France's jobless rate began a downward march, recently reaching 8.5%, its lowest level in more than a decade.
The eruption of yellow-vest unrest in November, however, forced the French leader to throttle back the economic changes, leaving investors to wonder whether the former investment banker had lost his appetite for reform. Hanging in the balance was the second phase of Mr. Macron's agenda: A deep cut to the corporate tax rate, funded by lowered spending on France's bloated public sector. Those public sector cuts, involving thousands of layoffs, pose another risk for the president.
Mr. Macron has vowed to gradually lower the corporate tax each year so that it reaches a rate of 25% by 2022. The figure, compared with 21% in the U.S., doesn't include hefty social charges that companies pay. A corporate tax cut planned for 2019, however, was called off to fund cash handouts for minimum wage earners and retirees.
The new initiative will lower the tax rate to 31% from 33.3% for companies with annual revenue above €250 million, and from 31% to 28% for their smaller counterparts, reducing the corporate tax load by €900 million.
But Patrick Martin, deputy president at French employers' organization Medef, said the corporate tax cuts would be more than offset by other fiscal measures. Mr. Macron's government said it would fund the initiative by trimming some tax breaks and closing loopholes for companies, such as exemptions on corporate donations, tax deductions on fuel used off-road, and payroll taxes for certain sectors including construction and media.
The government "should encourage companies to continue to invest, hire people and not the contrary," Mr. Martin said.
Mr. Macron's new push was made possible by a rebound in his approval ratings following his national listening tour, and the resilience of France's consumer-driven economy. The government forecasts economic growth of 1.3% in 2020, while other major European economies including Germany and Italy face sharper slowdowns.
The tax relief for households, meanwhile, aims to soften the blow of another contentious change that Mr. Macron has in the works: An overhaul of the pension system, long considered the third rail of French politics.
Mr. Macron wants to extend the number of years that people are required to work before collecting their pensions, rather than raising the age of retirement of 62 for all workers. He also wants to consolidate France's 42 different retirement plans—and their special benefits—into one universal system.
Unions and other opponents of the proposal are digging in for a fight. Thousands of protesters—including lawyers, doctors and pilots—have hit the streets in recent weeks while citywide public transport strikes have paralyzed the French capital.
France also hopes to rack up this year an estimated €400 million with its new tax on tech giants, including Alphabet Inc.'s Google, Facebook Inc. and Amazon.com, a finance ministry official said. France said it would reimburse U.S. tech companies if they end up paying more taxes than they would under taxation rules that the Organization for Economic Cooperation and Development is currently negotiating after President Trump threatened to take"substantial reciprocal action" against France for the tax.
The new levy, which is retroactive to the beginning of this year, applies a 3% tax on revenue that companies reap in the country from activities such as targeted advertising or running a digital marketplace.
The government also expects to garner billions in additional revenue from its decision this year to collect income taxes directly from monthly payrolls rather than relying on people to report their income at the end of the fiscal year in a bid to reduce tax cheating. The government is also taking advantage of negative interest rates to issue more debt.
Earlier this month, the finance ministry raised its budget deficit target to 2.2% of economic output from the 2.1% target it set in June. That would still be the smallest deficit since 2001.
Jacline Mouraud, one of the early driving forces behind the yellow-vest movement, said the new measures represented a step in the right direction, but it wasn't enough.
"We need someone to have the courage to completely overhaul our tax system. It's not going to be Macron it seems," Ms. Mouraud said.