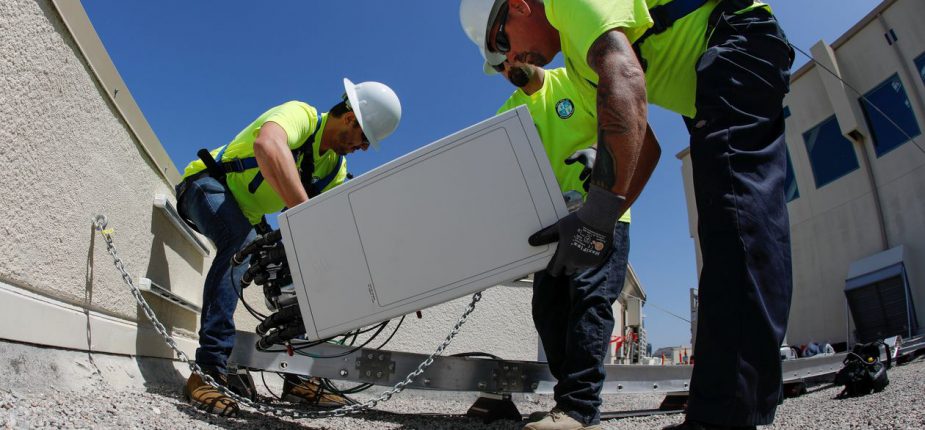 Workers installing a new 5G antenna system for AT&T's 5G wireless network in downtown San Diego in April. PHOTO: MIKE BLAKE/REUTERS
Tech
Dead Calm Before the 5G Storm
| le 2 August 2019

Qualcomm, Apple and others suffer big smartphone slump ahead of 5G rollout. But will next year really bring relief?
The global smartphone market is taking a significant pause ahead of the rollout of 5G services. The big question is just how long that pause will last.
Market research firm IDC reported Wednesday that global smartphone sales fell 2.3% year over year during the June quarter. That is the seventh straight quarter of declines for the industry. IDC's data showed iPhone unit sales falling 18% to 33.8 million, which would be the lowest number of quarterly sales that Apple's iconic smartphone line has seen in six years. Apple no longer reports unit sales itself, but the company said in its fiscal third-quarter report Tuesday that iPhone revenue for the same period slid 12% year over year to about $26 billion.
Qualcomm painted an even bleaker picture on Wednesday. Fiscal third-quarter revenue came in a bit below Wall Street's estimates, though adjusted per-share earnings exceeded expectations. But the company's forecast was a different story, with Qualcomm essentially projecting a significantly weaker business for the following two quarters as device makers and wireless carriers clean out inventory ahead of a big 5G push next year.
Qualcomm is also hurt by its continued royalty dispute with Huawei and the fact that the Chinese smartphone giant uses its own chips for devices sold in that country. This means that 5G can't appear on the scene soon enough for Qualcomm, Apple and others in the smartphone business.
Wireless carriers are indeed pushing hard to upgrade their networks to the next-generation technology. AT&T said on its earnings call last week that it expects to have "nationwide 5G coverage" by the middle of next year. Verizon said on its own call Thursday morning that it expects to have 5G service up and running in 30 markets by the end of this year. China also aims to have national 5G networks in place next year.
Billed as the next generation of wireless networks, 5G promises blazing speeds and a vastly increased data capacity needed to underpin future technologies, such as autonomous cars.
But early reviews of 5G services have been rough, noting the service's spotty availability and the tendency of the phones to overheat. And those phones are expensive: the 5G version of Samsung's latest Galaxy S10 lineup costs about 30% more than an equivalent model without 5G. Wireless customers are already resistant to handset prices that have been creeping well over the $1,000 mark, and it is unclear whether faster service in limited markets will be enough to convince them to absorb further price increases.
And while Apple hasn't announced its plans, the company isn't expected to introduce a 5G iPhone until late next year. That too will likely be a significant constraint on 5G demand given the fact that the iPhone has leading market share at the premium end of the smartphone market where customers are more likely to upgrade early. As fast as 5G service promises to be, the wait will be painful.