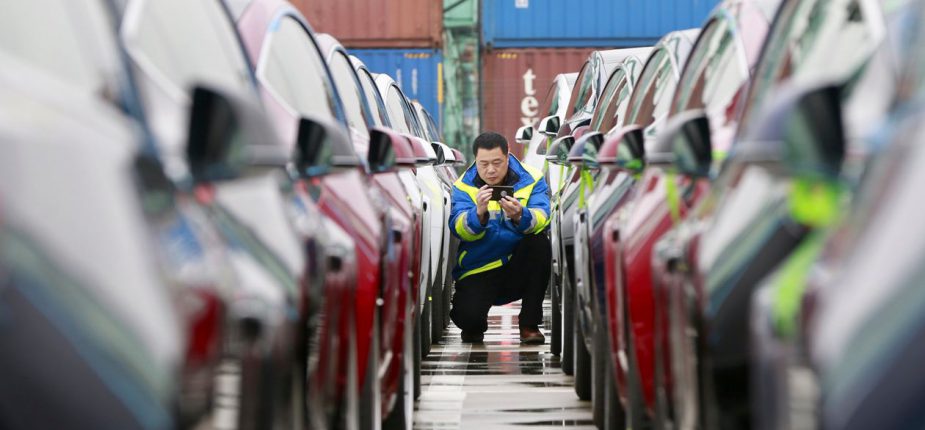 A worker among one of the first batches of Tesla Model 3 electric cars to be delivered to China at a port in Shanghai in February. Chinese tariffs on U.S. auto goods will start Dec.
China to Impose Tariffs on $75 Billion of Additional U.S. Products
| le 23 August 2019

New taxes are in response to U.S. tariffs on $300 billion in Chinese goods
By Chao Deng
hina will impose tariffs on $75 billion worth of U.S. products to retaliate against U.S. moves to slap punitive tariffs on an additional $300 billion of Chinese goods.
China's cabinet said Friday that it will impose tariffs of 5% and 10% on what amounts to roughly the remaining U.S. imports it has yet to imposes punitive taxes on. It said it will also impose tariffs on U.S. vehicles and car parts, instead of holding off on such a plan.
U.S. stocks initially fell after China announced the retaliatory tariffs.
Chinese tariffs on $75 billion in U.S. goods will be imposed in two batches, on Sept. 1 and Dec. 15, the same dates U.S. tariffs go into effect. Chinese tariffs on U.S. auto goods will start Dec. 15, according to the nation's cabinet.
The two countries have been locked in a prolonged trade and technology dispute, with trade officials making little progress in resolving the conflict. After President Trump announced his plans for fresh tariffs at the start of the month, Beijing responded by officially announcing the freezing of purchases of U.S. agricultural products and letting its currency drop to its lowest level in a decade. A weaker yuan makes Chinese exports cheaper.
Items China plans to impose tariffs on include agricultural products, apparel, chemicals and textiles. China imports less than the U.S. does from it, so its ability to impose tariffs is limited.
Corrections & Amplifications 
Chinese tariffs on $75 billion in U.S. goods will be imposed in two batches, on Sept. 1 and Dec. 15. An earlier version of this article incorrectly stated the dates as Sept. 1 and Sept. 15. (August 23, 2019)