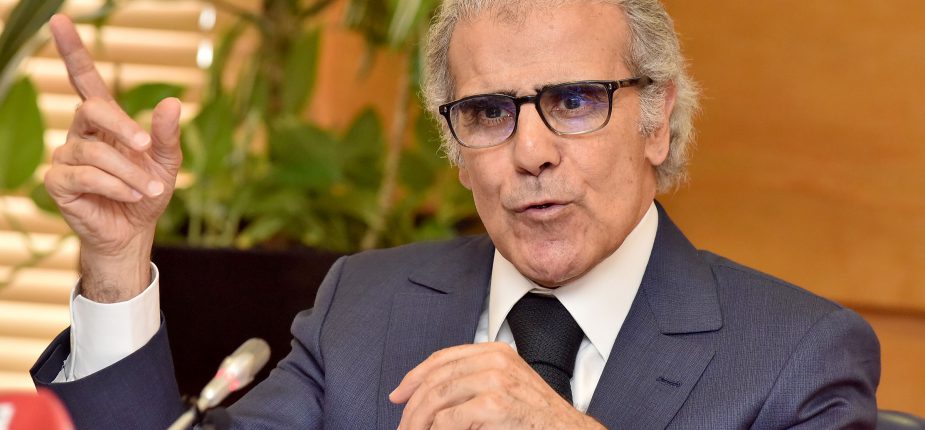 M. Abdellatif Jouahri, Governor of Bank Al-Maghrib
Morocco
BAM, the Treasury, ACAPS and the AMMC, a concerted approach to macro-prudential supervision
le 12 November 2019
As is well known, the Central Bank gained its independence in 2006 when new statutes were conferred upon it, giving it autonomy in conducting monetary policy.
But now, in 2019, not only is its role in maintaining price stability protected against any form of institutional, political or governmental interference, it has actually been extended to include macro-prudential supervision and to help deliver financial stability.
Bank Al-Maghrib, in carrying out its primary mission, relies on analysis of current economic trends and macroeconomic projections by using a model-based system developed with the help of the International Monetary Fund.
Two core missions
This enables it to forecast trends, over eight quarters, in various variables such as inflationary pressures. On this basis, the key rate can be set, the main instrument of monetary policy, enabling the Central Bank to fulfil its role as guarantor of price stability in Morocco.
However, a new draft BAM statute, adopted in 2019 by the government and the House of Representatives, extends the Bank's missions to include helping deliver financial stability as well as giving it even greater autonomy in terms of monetary policy, while conferring upon it indisputable judicial and legal powers.
This mirrors the way in which regulatory authorities around the world have seen their role bolstered. In addition to setting monetary policy, they have been responsible for delivering financial stability since the 2008 financial crisis.
Close concertation
In Morocco, although Article 6 of BAM's statutes has strictly defined its mission for a number of years now, as well as guaranteeing its independence, Bank Al-Maghrib and the Ministry of Finance are now expected to concert on a regular basis to ensure that macro-prudential and monetary policies are consistent with other macroeconomic policy tools.
But its role going forward has been extended to include macro-prudential policy.
Around the world, macro-prudential policy was not on the regulatory authorities' radar prior to the financial crisis of 2007-2008.
Until then, the primary mission of central banks or regulatory authorities was primarily micro-prudential, i.e. banking supervision.
Their responsibility was to ensure that no financial institution exhibited any signs of being in difficulty, imbalance or failure, in compliance with Basel standards, which laid down a certain number of prudential rules, capital adequacy ratios, liquidity ratios, and rules for non-performing loans, etc.
The supervisory authorities employed a supervision and reporting system in which each bank was assessed and gauged individually, without really reflecting on the interconnections that might have existed between financial institutions.
From micro- to macro-surveillance
In the aftermath of the financial crisis, triggered by the sub-prime mortgage debacle in the United States, macro-prudential policy was all about dealing, among other things, with situations in which risk had accumulated within the financial sector that had not been intrinsically spotted by the supervisory authorities.
In fact, by adopting a macro-prudential approach to supervision, regulatory authorities are far better equipped to deal with the transversal nature of banking, that is, the manner in which the various components of the financial system, banks, capital markets, insurance companies and other institutional investors, inter-connect.
The macro-prudential supervisory safeguards that have been adopted, such as Basel III, are intended to protect the financial system from other crises of this kind should they ever occur.
There is also a temporal aspect to macro-prudential policy, which aims to deal with the build-up of risks that may arise during the financial cycle.
This enables the correlation between the quality of credit growth and economic growth to be appraised. To do this, a statistical method has been adopted at the international level that assesses the credit-to-GDP ratio and its deviation from its long-term trend.
Specifically, if the gap between the credit-to-GDP ratio and its long-term trend is too wide, there is excess credit expansion (overheating). In response, the macro-prudential regulatory authority must intervene by requiring banks to build a capital cushion known as a 'counter-cyclical buffer'.
Moroccan practice
This measure, which was introduced in 2016 in Morocco, authorises BAM to request that banks build up this additional capital buffer to deal with any credit overheating, if it deems that the gap between loan distribution and the rate of economic growth is too wide.
Articles 108 and 109 of the 2015 Banking Act introduced the concept of macro-prudential supervision and systemic risk.
In addition, Bank Al-Maghrib, under the aegis of its governor, Mr Abdellatif Jouahri, initiated an in-depth reflective study into financial stability as early as 2007-2008, at the time of the international financial crisis.
The aim was to assess the risks to financial stability by examining the possible effects of a crisis that, after rapidly impacting Europe, might have on our economy, particularly due to a slowdown in foreign demand for Moroccan goods.
To this end, in 2012, BAM set up an internal financial stability committee, chaired by the governor and comprising representatives of every relevant department within the Bank.
BAM also embarked on a process of mapping systemic risks as well as setting up a stress testing system in 2012-2013.
Today, the new statutes conferred upon Bank Al-Maghrib in 2019, which will soon be officially adopted, reinforce its mission of maintaining financial stability through macro-prudential supervision within the framework of the Systemic Risk Coordination and Monitoring Committee, established by the provisions of the Banking Act.
Close and extended surveillance
As a result, macro-prudential supervision, one of BAM's extremely important missions, is closely monitored by this committee, which is chaired by Bank Al-Maghrib's governor and comprises representatives of ACAPS, the AMMC and the DTFE.
This expanded committee, which meets every six months, examines the matrix of systemic, banking, insurance, social welfare and capital markets risks, in light of the interconnections that might exist between different sectors.
It also discusses emerging risks such as digital transformation, which is now affecting every sector.
In view of what happened in the real estate sector, this committee also endeavours to anticipate any potential bubble forming as well as assessing macroeconomic risk by examining the state of public finances, the deficits within its remit and the level of foreign exchange reserves.
In particular, it monitors the soundness of financial institutions, regardless of whether they are banks, insurance companies, pension funds, or any other type of institution.
In this respect, the entity responsible for macro-prudential supervision within BAM carries out a Herculean task of aggregating data from internal and external suppliers with the help of decision-support software, enabling the Bank to consolidate and develop a data warehouse for analysis.
In particular, an up-to-date risk assessment is obtained based on monetary, macroeconomic and financial statistics.
By drawing on these data, BAM is now able to carry out risk scoring and forecasting.
Since 2015, the Banking Act has expanded the scope of the Supervisors Coordination Commission to include the types of risk that resulted from the 2008 crisis and, in particular, the concept of macro-prudential supervision and systemic risk.
Today, the statues of each of the country's three main regulatory authorities, BAM, the AMMC and ACAPS, need to evolve to incorporate this concept of macro-prudential supervision.
Bank Al-Maghrib was the first to have its statutes updated. ACAPS and the AMMC are in the process of having theirs updated as part of a process aimed at standardising the regulatory authorities' Articles of Association.
Without further delay
Work must go on, however, while awaiting completion of the standardisation process. A three-year financial stability roadmap was signed off in December 2018 for the 2019-2021 period.
One of the initiatives outlined in this roadmap is, in fact, standardisation of the three regulatory authorities' Articles.
The Act confers upon Bank Al-Maghrib chairmanship of this committee and its secretariat, thereby underlining, in fine, the central bank's pre-eminence and that of the banking sector within the financial system. In terms of weighting, the banking sector in fact accounts for nearly two thirds of the financial system's total assets….
All of the above highlights the fact that Morocco prides itself on keeping abreast of international regulations, has a sound financial system and a regulatory framework that is in line with international standards.