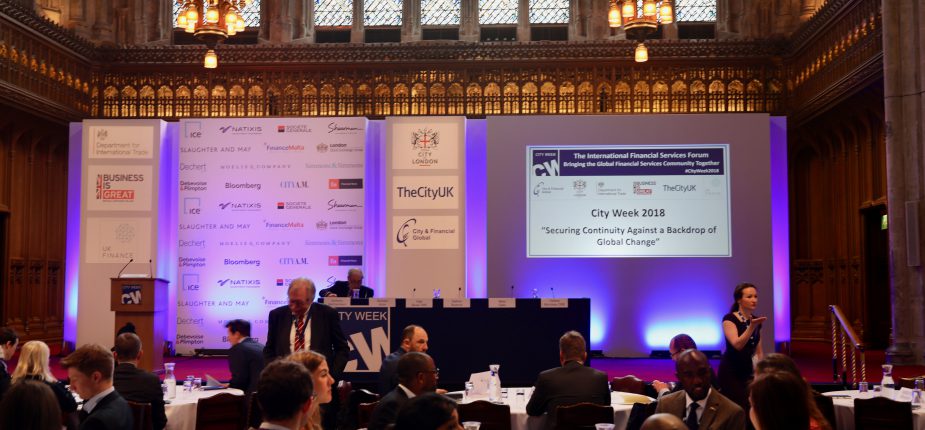 Économie et Finance
City Week 2018, Brexit or no Brexit, London will remain in pole position!
le 27 avril 2018
As is customary at this time of the year, the City of London held its international financial services forum 23rd-24th April at the Guildhall, one of the most iconic buildings in the heart of the world's leading financial centre.
Sponsored by leading financial institutions, investment banks, investment funds and insurers, City Week is an event which has the full backing of London's leading financial players, City & Financial Global, the City of London, TheCityUK, the Department for International Trade, UK Finance and Business is GREAT.
Attended by the finance industry's bigwigs
This year's event is attended by more than three hundred personalities from the world of business, finance, banking, insurance, consulting, audit and corporate law, as well as the press and academia, from all over the world, including the Commonwealth, Asia, Africa, Europe, North America and the Gulf.
This forum provides, of course, an opportunity to analyse, reflect on, inform and learn about the issues and challenges facing global finance, particularly the City of London which, despite the vagaries of British politics, is making every effort to maintain and bolster its dominant position in the highly competitive field of international financial markets.
That's why City Week is such a popular event for all those in search of investors, those looking for investments, those who offer advice, those who are concerned about regulation or deregulation, those who advocate the UK distancing itself from Europe, those who regret the process of separation triggered by Brexit, those who wish for Article 50 of the EU Treaty and those who refuse to see it applied.
During City Week, in addition to the many meticulously organised conferences and workshops at which each speaker is respectful of his or her allotted time for speaking, a space is set up in the centre of the Guildhall for the major institutions from the world of finance to 'hold court', advertising their services to participants, thereby transforming City Week into an exceptional venue for  'B-to-B' meetings, as productive as they are numerous.
The main talking-point of the 2018 forum, as was the case last year, is the major event with which the United Kingdom has been confronted since the June 2016 referendum, Brexit, which affirms the wish of the majority of the British people to leave the European Union.
Brexit or no Brexit…
The City of London has not yet recovered from this political tsunami, which may yet threaten its status as the world's most attractive financial marketplace. It was against this backdrop of Brexit and its consequences that the discussions and workshops took place during the two days of this forum.
But finance people are a pragmatic lot. They are not in the habit of feeling sorry for themselves or giving up. One of main reasons for holding City Week in late April was to show the world that an international financial services forum of this kind held in London was still highly relevant.
Indeed, the City is the ideal place to try out the best and most effective innovations in finance, through 'fintech', that is to say, the emerging financial services sector which leverages technology as a means of improving financial operations, as well as 'insurtech', risk management, compliance, etc.
During City Week, three essential watchwords provided the common thread running through many of the workshops – 'global outlook, efficiency and liquidity' – which happen to be the cornerstones of London's very existence as a financial centre.
Because this marketplace now has to live with the realities of Brexit, whose consequences are well known and feared by many, British financiers want to prove that Brexit offers an opportunity to diversify and expand their range of services and products and to foster closer ties with every financial centre on the planet.
Not to mention the fact that the City intends to develop new productive relations with the European Union, without losing the attributes and advantages that it hitherto possessed prior to the referendum to leave the EU.
It could be said therefore, somewhat tongue-in-cheek, that Brexit or no Brexit, the City wants to 'have its cake and eat it'!
A win-win situation for all concerned!
That is why, as negotiations between the European Commission and Mrs May's government enter an active and serious phase, the aim of City Week 2018 is to provide a clear and pragmatic response in terms of 'enhanced equivalence', meaning, establishing a win-win partnership between the United Kingdom, now looking to broaden its horizons and a European Union that is incapable, in the near future at least, of replacing or usurping the City's pre-eminent position in global financial services.
A determination to adopt a pragmatic and realistic approach to overcoming or circumventing political decisions was the overriding theme underpinning each debate and workshop during the two days of this forum, which was peerless in terms of the quality of the speakers and participants.
But, above all else, what was evident during this City Week was London's tremendous ability as a financial centre to respond and adapt to international, European and local developments, fully intent on maintaining its status as the world's leading financial marketplace.
The City is clearly reflecting on, acting on, planning and organising its transformation, extending its scope, proposing financial and other innovations so as to continue to retain its appeal, which has hitherto been its strength.
By organising such a forum, it has opened its doors to all the 'movers and shakers' in global finance, operators, investors, experts and institutions, ensuring that they are fully aware of the efforts made to maintain the City's leading status and that it is indeed remains 'the place to be'.
London, Casablanca, simply no comparison!
Observing such dynamism at first hand, the myriad of initiatives made on an ongoing basis, this ability to constantly re-evaluate the situation, a determination to move forward whatever the obstacles encountered, one cannot help but think that London as a financial centre has truly discovered a means of self-sustainability
One cannot help but draw the comparison with the 'initiatives' of our own domestic institutions and decision-makers responsible for developing the Casablanca marketplace.
While the City opens its doors and welcomes all-comers on 'home turf', offering a comprehensive range of services, innovative tools and the most attractive products, we Moroccans, by contrast, prefer to huddle together in closed circles, conducting road-shows among 'familiar faces', which, despite taking place in London or New York, are generally unproductive, simply content to 'market Morocco's stable institutional framework', which itself exists in spite of the institutions and those responsible for our domestic financial services industry!
London cannot of course be compared to any local financial centre with simply regional aspirations. But the City proactively and pragmatically endeavours to offer more and better. Casablanca, by contrast, is simply content to present a 'three-year development plan', accompanied by sanctimonious vows and false promises.
A 'global outlook, efficiency and liquidity', such are London's three attributes, which are but a pipe dream for Casablanca!
DNES in London
Afifa Dassouli
Original article : https://lnt.ma/city-week-2018-brexit-londres-restera-pole-position/