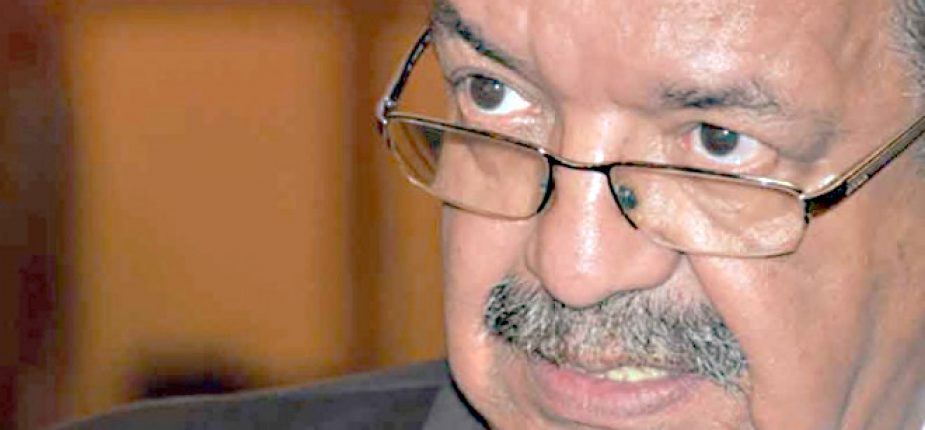 Politique
Algeria-Morocco: Sticks and stones may break our bones…
le 9 novembre 2017
The recent statements made by Mr Abdelkader Messahel, Algeria's Minister for Foreign Affairs, in front of an audience made up of his country's business leaders, were littered with accusations that were as ignominious as they were serious against Morocco, its African policy, its banking system and its national airline. The result was that it only made matters worse given the already prevailing tense climate between Algiers and Rabat.
And even if Messahel is like a bull in a china shop when it comes to diplomacy and its practices, one can hardly accept the argument that it was an off-the-cuff, spontaneous and one-off statement made by this high-ranking Algerian official.
Neither the circumstances nor the forum in which these statements were uttered are relevant. But what matters is the timing of these defamatory statements made by Messahel.
Algeria's Foreign Affairs Minister deliberately chose to insult Morocco at the very moment that Mr Horst Köhler, the UN Secretary General's Personal Envoy, was undertaking his first fact-finding tour of the region.
Messahel and his somewhat sinister diplomatic apparatus could hardly ignore the fact that, despite the necessary discretion that shrouds this kind of mission, the visit of Mr Köhler, Mr Antonio Guterres' representative, to Morocco had been an unmitigated success.
A special envoy on a mission…
In fact, during his short stay in Rabat, in addition to the royal audience granted to him, unlike his American predecessor, Mr Christopher Ross, who had not been granted an audience since 2013, Mr Köhler met his institutional counterpart at the Ministry of Foreign Affairs, Mr Nacer Bourita and the Head of the Government, Mr El Othmani as well as the Presidents of both parliamentary chambers, Mr El Malki and Mr Benchemmas, on a number of occasions.
By contrast, the UN Secretary General's Personal Envoy was visibly unmoved by the habitual manipulative scenes in the Tindouf camps organised by the Polisario Front's propaganda services whenever foreigners visit the region, together with a cortege of professional wailers who, on this occasion, had even learned some rudimentary German!
But, Praise Be, Mr Köhler did not get hoodwinked by the shenanigans of the Algerian-Polisario Front's propaganda squad. Indeed, quite the contrary. Stressing that he was no 'magician', Mr Guterres's Personal Envoy carefully avoided using language cherished by the Tindouf separatists, such as the "right of the Sahrawi people to self-determination" or "the organisation of a referendum for self-determination".
Mr Abdelkader Messahel intentionally overstepped the mark not because he was angry nor piqued by the initial findings of his staff regarding the UN Personal Envoy's tour. But rather, fully aware of the paradigm shift that has taken place in relation to the Moroccan Sahara issue with Messrs Guterres and Köhler coming into office, he had to quickly find a new means of blocking a process that is largely sympathetic to Morocco's position.
While the UN Special Envoy has his work cut out trying to organise a round of negotiations between Morocco and the separatists as well as, in particular, firmly requesting the 'parties in question', Algeria primarily, to make a serious commitment to finding a political, peaceful and negotiated solution to the Moroccan Sahara issue, the Algerian Minister of Foreign Affairs was in a hurry to pull the rug from under his feet by once again straining relations with the Kingdom.
The bilingual illiterate
Mr Köhler has therefore found himself in a tricky situation right from the start with Algiers signalling its obvious desire to block any progress on the issue. This therefore highlights the fact that the conflict has been an entirely, solely and definitively Algerian-Moroccan one since 1975, with the separatists being feeble puppets in the hands of the Algerian politico-military gerontocracy.
Since the head of Algiers' diplomatic service was unable to openly admit to such a desire, attacking Morocco head-on, making base and ignominious accusations, expressing his resentment at the success of Morocco's African policy which is primarily based on 'soft power' as opposed to Sonatrach's petrodollars, was the only possible course of action for Messahel, who was well aware that this outburst in front of his country's business community would trigger a legitimate and necessary reaction from Morocco.
It may be assumed that his outburst would not have convinced anyone, even in Algeria, and certainly not our corporate neighbours who appreciate and understand the role and contribution of Moroccan companies, whose expansion in sub-Saharan African is consistent with the Kingdom's growing influence.
Like us, they would have had a laugh at the crass ignorance of Mr Abdelkader Messahel, who does not know the difference between lending money and borrowing it. Thanks to the power of social media today, they would have also lauded the hospitality and welcome offered by the honourable residents of Casablanca, supporters of Wydad, to their USM Alger counterparts, as they gathered last Saturday to watch the match between these two great football teams.
There can only be one conclusion at the end of this article, that "sticks and stones may break our bones but words can never hurt us".
Fahd YATA
Original article : https://lnt.ma/algerie-maroc-bave-crapaud/